O u r S a r d i n e C a n . . . .
21 Jul 2021
Whoa, nothing could have prepared us for the apartment they expected us to live in with 2 cats and a shipment on the way….
Our building is called Akebono #17 and we are on the 3rd floor. The location is good and we are a short, 10-minute walk to the nearest train station. The skinny one-way road changes to painted bricks approx 200 meters from the station. These brinks are always painted the same color as the train line you are walking towards, which can be very helpful!


 The walk from our building takes us past many "stand-up bars", small cafes, convenience stores, meat & produce shops, dry cleaners, and a pet store.
Back to the apartment which has been our temporary home for the past 6 weeks, with just 2 more to go, thank God! Mark figures it is about 350sf and it is basically two rooms. One room is the bedroom, living room, and dining room (YES all 3). The other is the kitchen, shower room, and toilet room.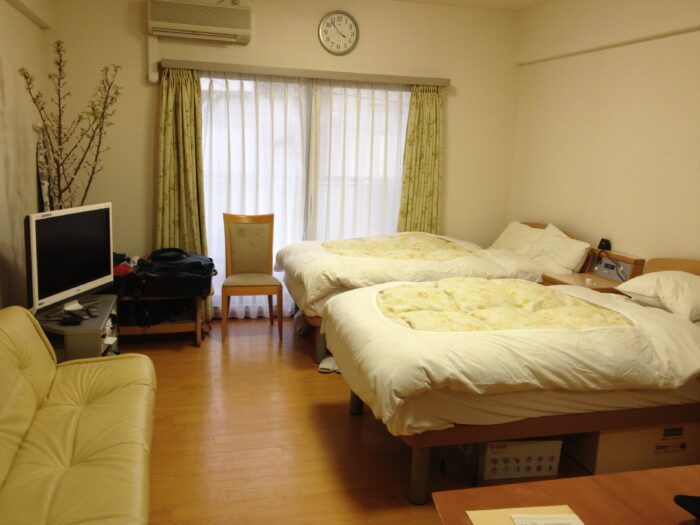 Living room, dining room, and bedroom!
The photo above was taken from the kitchen area. The beds are a bit bigger than a single twin, but are definitely not a full double AND they're fixed and can't be pushed together. My Valentine's gift is sitting behind the TV, a Cherry Blossom branch in a vase of water, awesome! Who knew you could do that? I'm hoping for roots then I will give it some dirt and take it to the next place. Behind that, the suitcase on a table is pretending to be a dresser.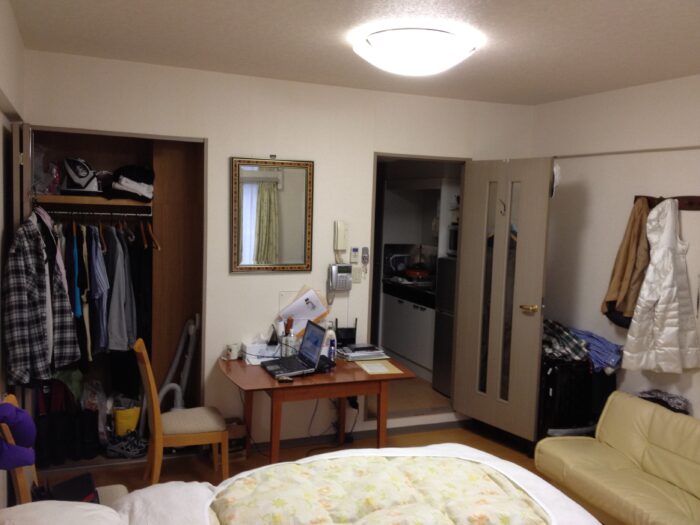 Looking back at toward the kitchen. The dining room table is my desk and we eat off our laps (when I cook). The closet is full and we have barely unpacked our clothes!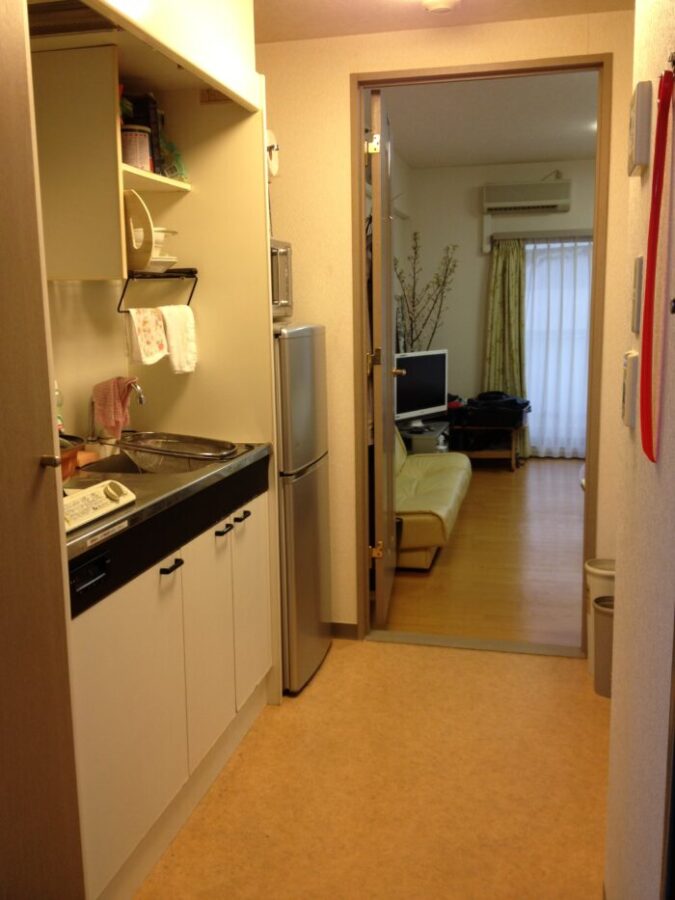 This one was taken from the front door and you can get a good idea of the size of the unit. This is the entire kitchen! The area to the right before going into the living room area is the washer (also a shelf for the kettle and toiletries), shower room and toilet room.
On a side note: we saw 45+ apartments on our search for our new home and there was only one that did not have a totally independent toilet room! Almost all apartments and houses in Japan have only 1 toilet room that is a completely separate room from the shower/bath area. Ours is seriously beyond tiny with barely enough room to turn around!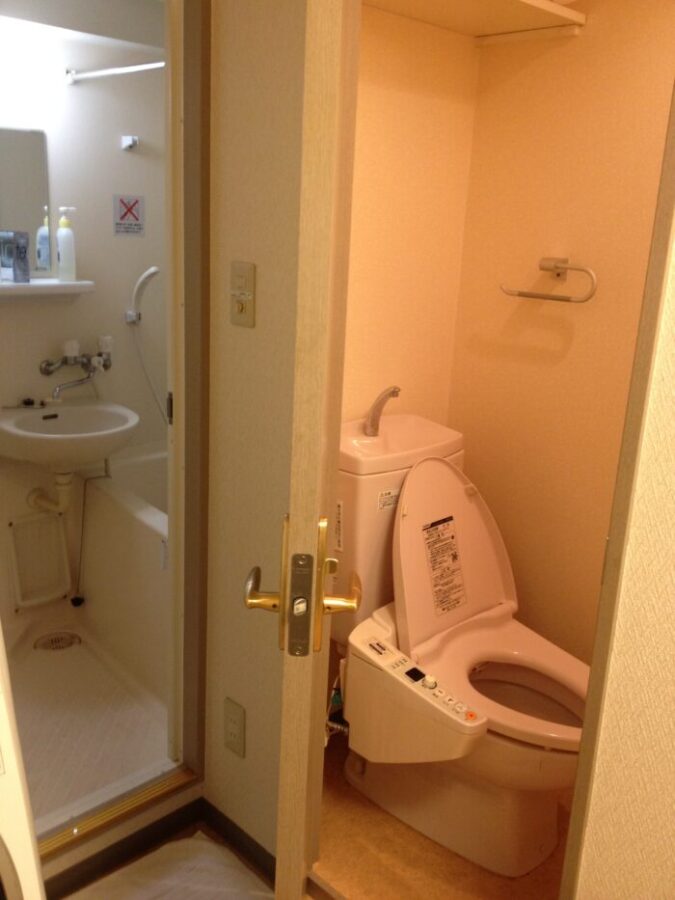 Wait, there's more! The sink on top of the tank is in fact the lid and when the toilet is flushed, cold water runs out the faucet and down the drain which then fills the tank. That's a pretty cool idea, except the water is freezing!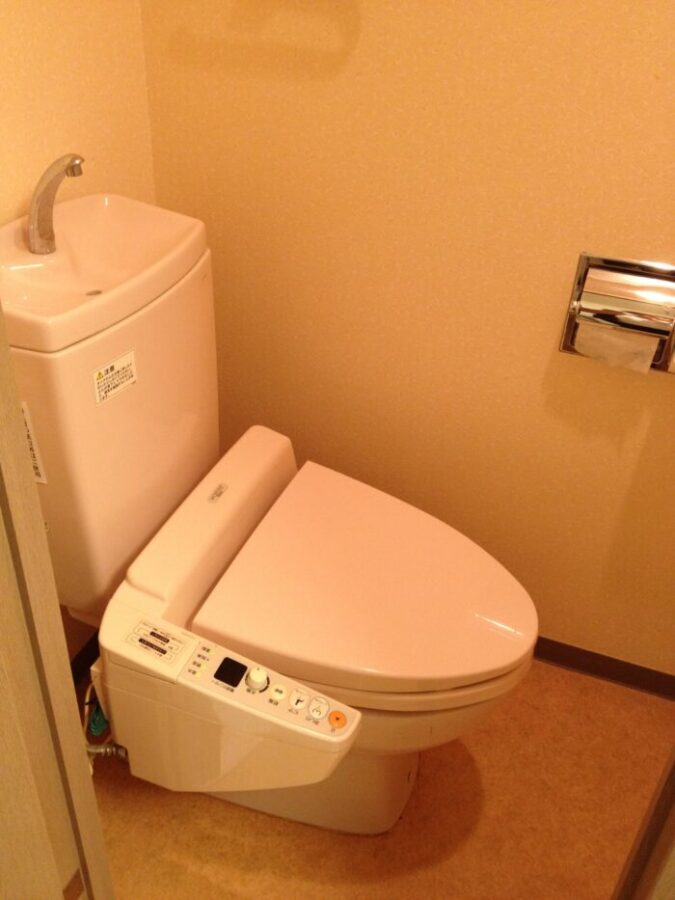 The toilet itself is also interesting and has a control panel for various things such as a Bidget type water spray, a dryer (oh yes!), temp for the heated seat (v.nice)! Why that feature is not standard in Calgary is beyond me!

 This is an older model and lacks many newer features such as lid & seat opening & closing at the touch of a button. You have your choice of recorded sounds (music, trickling water etc.) which can be played whilst in use so that not even you can hear what's going on in there, LOL! These recordings can be heard upon entering public bathrooms almost everywhere in Japan and the trickling water appears to be a favorite! ; ) 

All the buttons are labeled in Japanese and many newer models no longer have a flush leaver of any kind….. I know I am not alone in admitting I have had to push every button in order to find the "flusher"!
The Kitchen!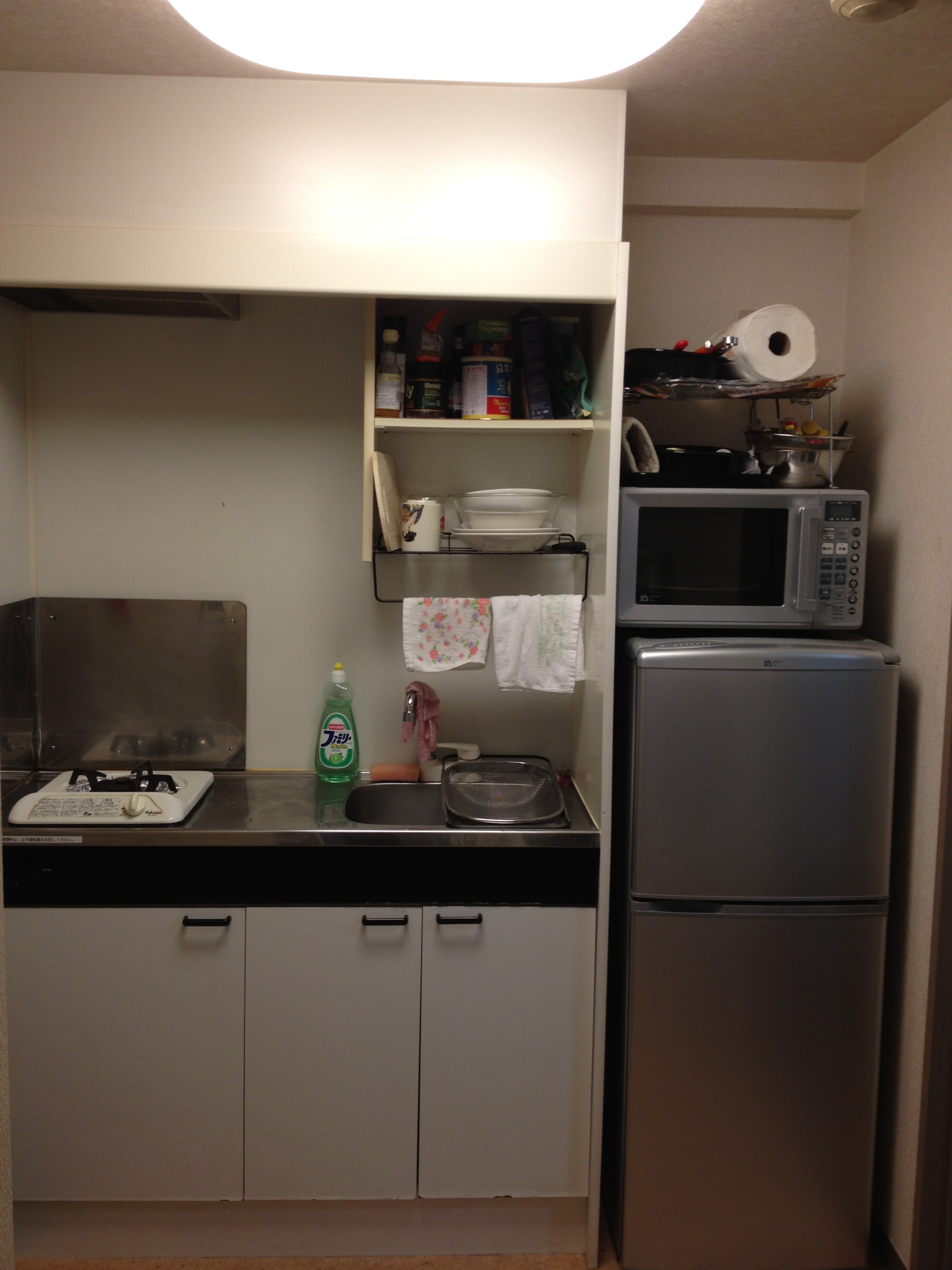 Yes, this is the entire kitchen!
I think this picture may be bigger than the actual kitchen…. no wonder I hardly ever cook! What is not shown here is a rice cooker which I tried for the first time last night. No doubt the table/desk has doubled many times as a workstation for the kitchen. It was definitely a good spot for the rice cooker which is good because there is nowhere else to put it, other than in the cupboard!
As you can see, there is 1-burner and a tiny sink. The microwave is also a convection oven but unfortunately, a lot is lost in the partial translation of the user manual on this one! I do have a skookum skillet that is large enough to do a good stir-fry or mix pasta and sauce. It has been a challenge just to come up with a meal plan that I can cook in stages and prepare in this teeny tiny prep area.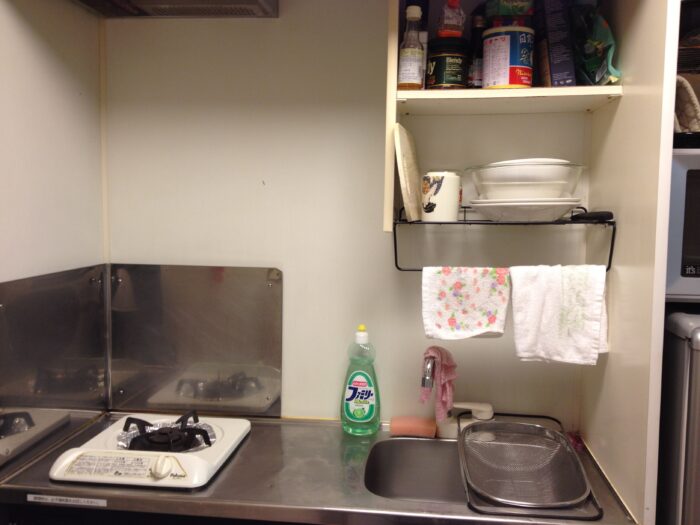 The entire prep area….
That would be the space between the burner and the sink. The spaghetti was excellent, stir fry was so/so and broiled pork chops (in the convection oven) downright disappointing! I can't wait to start cooking in our new apartment which has a proper 4 burner stovetop (it's a ceramic top but I can live with that) and plenty of prep room. That will have to wait for another post after we are settled and the girls are back home with us and ready for another photoshoot.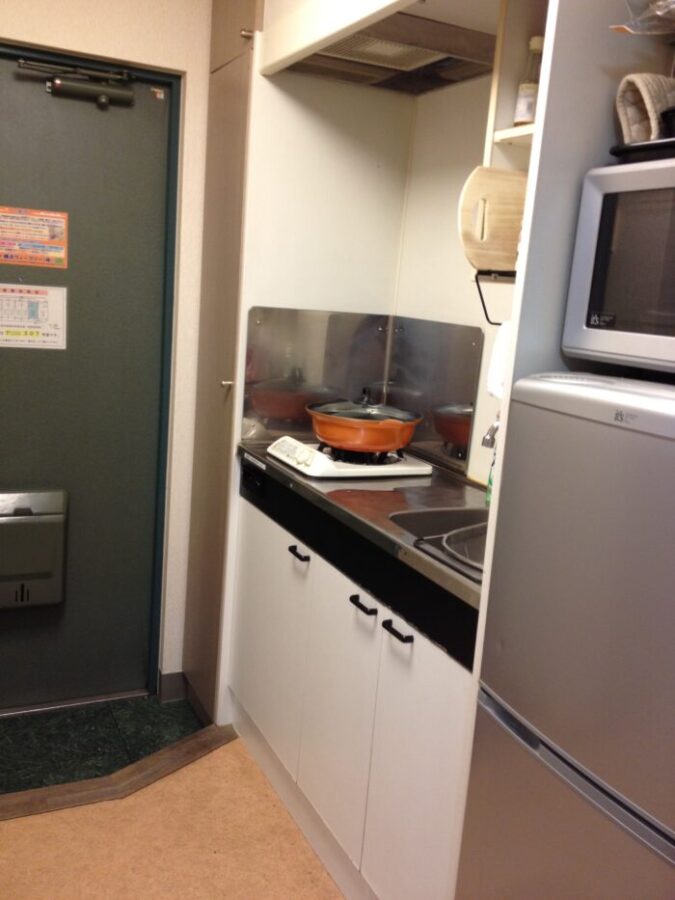 This final shot is from the door of the living room area towards the entry door. Rooms are always sectioned off with doors to keep the area that needs to be heated or air-conditioned smaller – another great idea! There is one step up (green to tan floor) and you are meant to never take your outdoor shoes into the unit. There are several pairs of slippers in our unit, and in people's homes for all guests to wear, which is nice!


The last thing to mention is that we have been without any English TV (news!) until 1 week ago when after much complaining (hello) the landlord decided to activate the 4 free English channels he has to offer. Funny thing is, most evenings they are either dubbed in Japanese or they air local shows! 

Nice try, right!
Until next time.
Feb/March 2012
living in Japan