The New Digs!
25 Jul 2021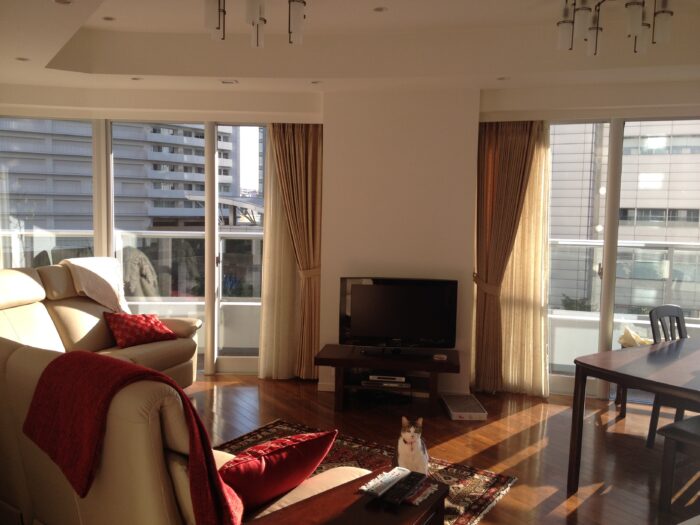 Wow did we ever luck out. After arranging for our agent, Shiro-san to drag us out to over 45 units, we finally found "the one". In the beginning we did not know which district we really wanted to live in and the search was based more on suitable apartments than location. After about 10 days we had seen enough to decide on Minatomirai because it was so close to the places we kept finding ourselves on the weekends and evenings. Once that decision was made it did not take long to go through the short lists each day and just wait for the right one to become available.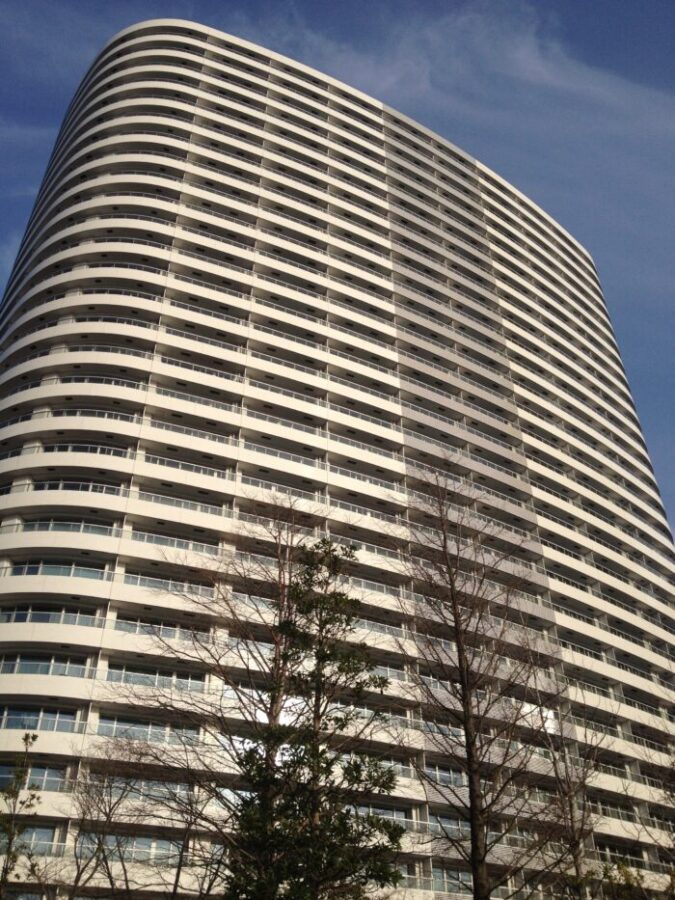 The system for renting is quite different here. As in the Middle East, you pretty much need an agent to find and secure the good ones and they get a fee for this, which is usually equivalent to about one months rent. Obviously they book appointments, get the keys and drive people around from place to place. Our guy certainly earned his fee with us, that's for sure.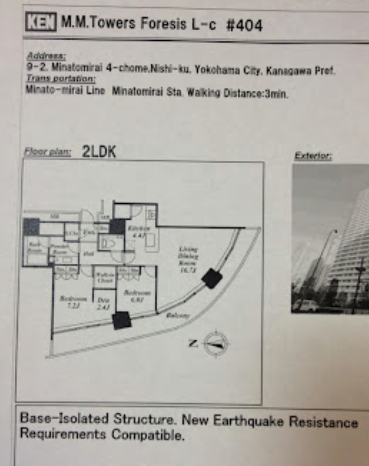 When our apartment first showed up on the website as a new listing I had it put on hold immediately so that we would be first in line if we wanted to take it. The unit was occupied so we had to make an appointment to view it and as it turns out the owners of the unit were themselves the occupants. We later learned this was a major advantage because they upgraded many things in the unit, presumably because they would actually live here for 3+ years.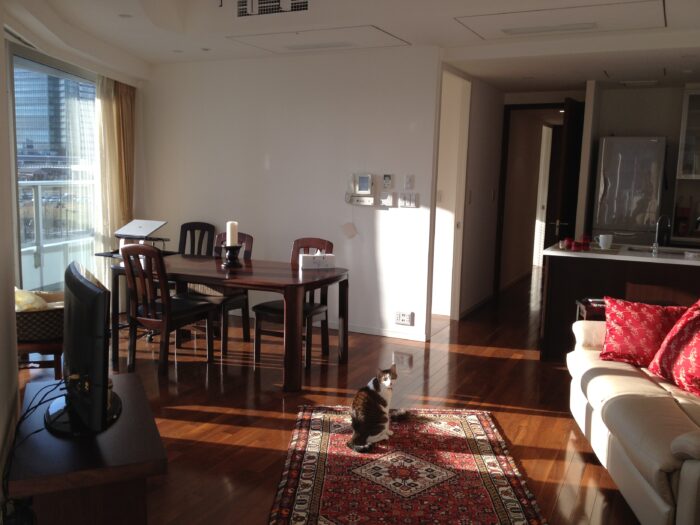 We love our 950sf 2bedroom unit. It faces SW (perfect!) and is on the 4th floor of a really nice, newer (2007) building. There are some spectacular views from the apartment buildings in this area, especially the ones facing Tokyo Bay with expansive ocean views and sun rises. We ended up looking at just a few units with great views because most rental apartments in Yokohama do not allow pets, so the number of potential units for us was greatly reduced. Looking back though, we are so happy to have chosen a great layout with lots of windows and storage over a view that disappears each evening.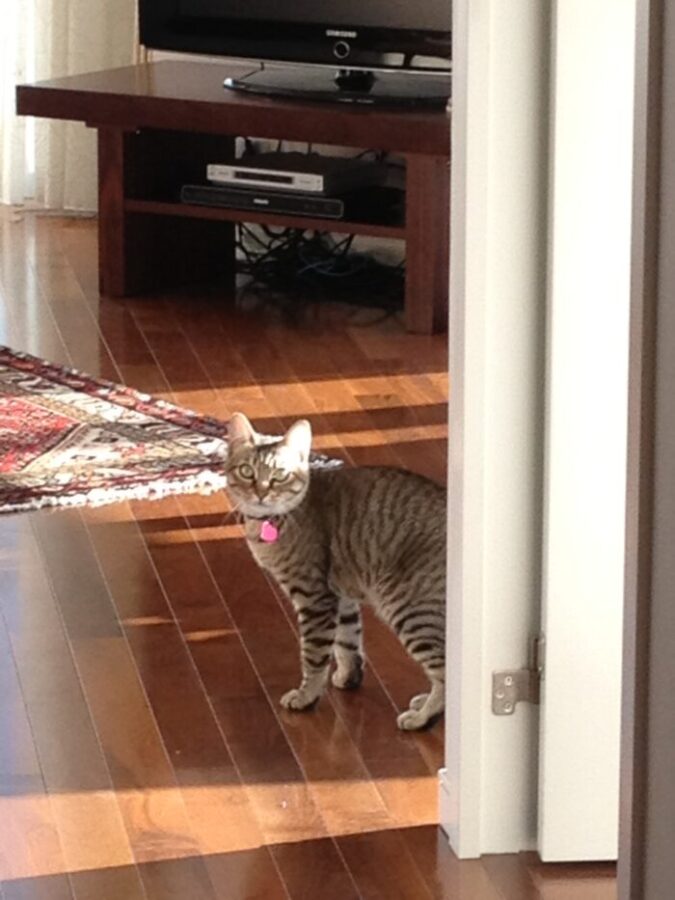 It's been nearly three weeks since we moved in and although we have had some nice weather, there have not been many sunny days that last throughout the afternoon. It was just the other when I came home late in the day to find the apartment absolutely flooded with sunlight, which was literally beaming into every room. It was fantastic! The girls were basking away and just loving it. For me, there is something really special about the "light" of late afternoon sun that is like a soft, warm blanket and makes everything look better and more inviting….. I truly love that and would pick a sunset or sunrise any day.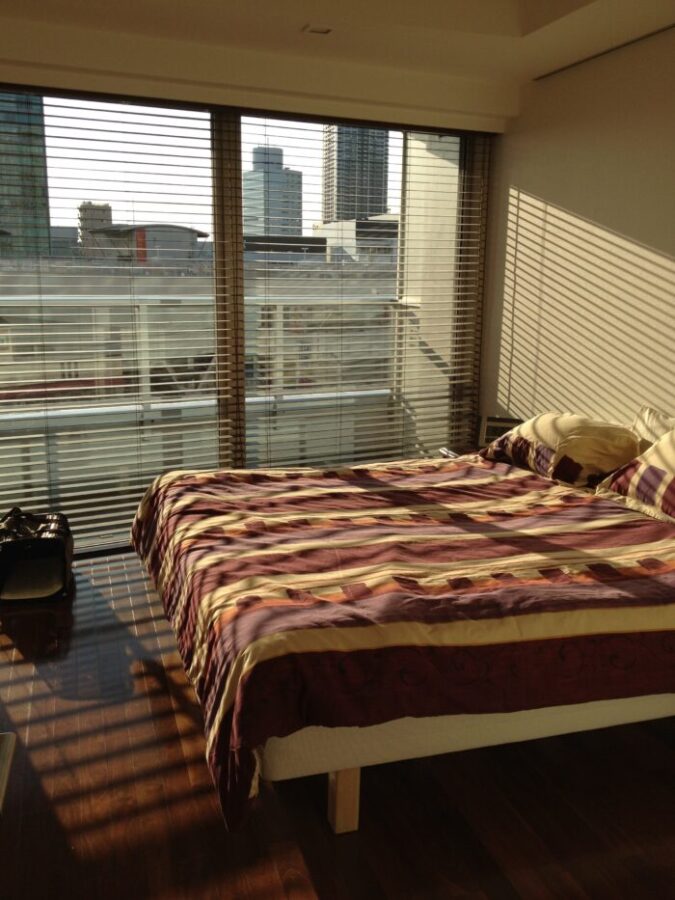 The Kitchen
The sink is fantastic and huge (31″x 17″) and I have never seen a roasting pan that wouldn't fit in this one! There is a giant garburator that turns on when you lock the lid (no good for gory movies!) and it automatically runs water directly into the bottom of it.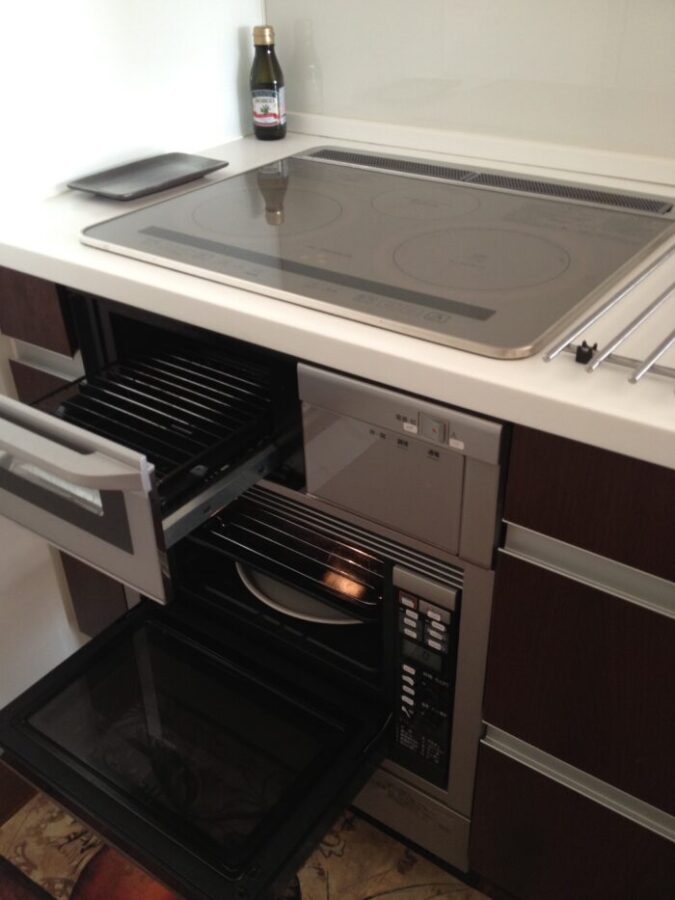 The oven and cook top is interesting and is basically 3 independent parts. There are 3 burners on top, a small broiler/grill directly under and a medium size microwave/convection oven on the bottom. I've got plenty of room to wash a large roasting pan, but nowhere to cook in it! The tricky thing (other than the Japanese instructions and labels) is planning what to use when because all 3 parts cannot run at the same time. I can definitely work with this though!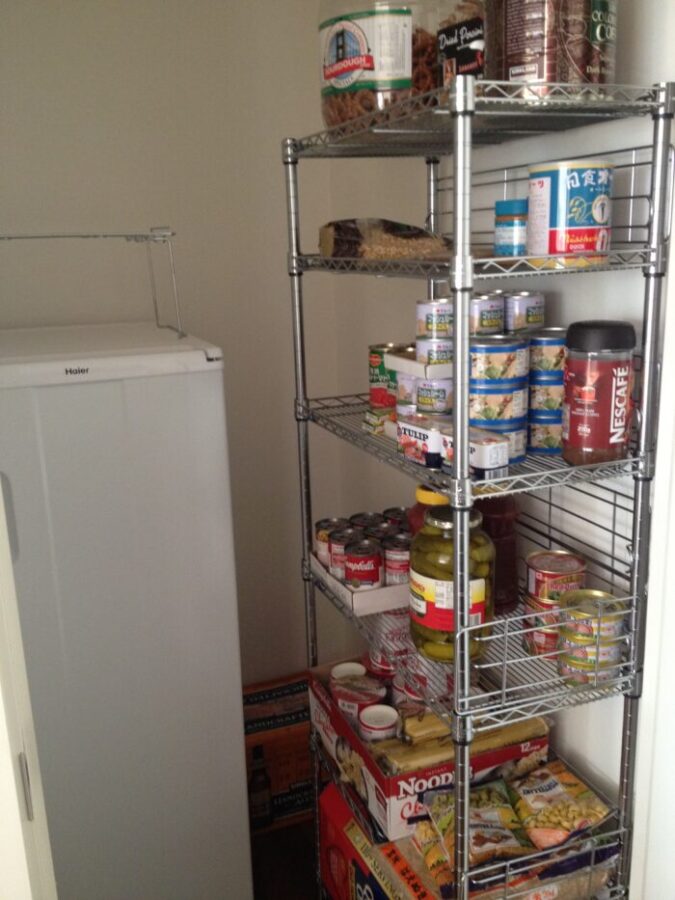 There is no shortage of cabinets and I could have easily shipped my entire kitchen contents from Qatar, had I known! We have even got a pantry with enough room for a small deep freeze, can't wait to make a big batch of chili and lasagna!
Definitely worth the wait!
Remember this one?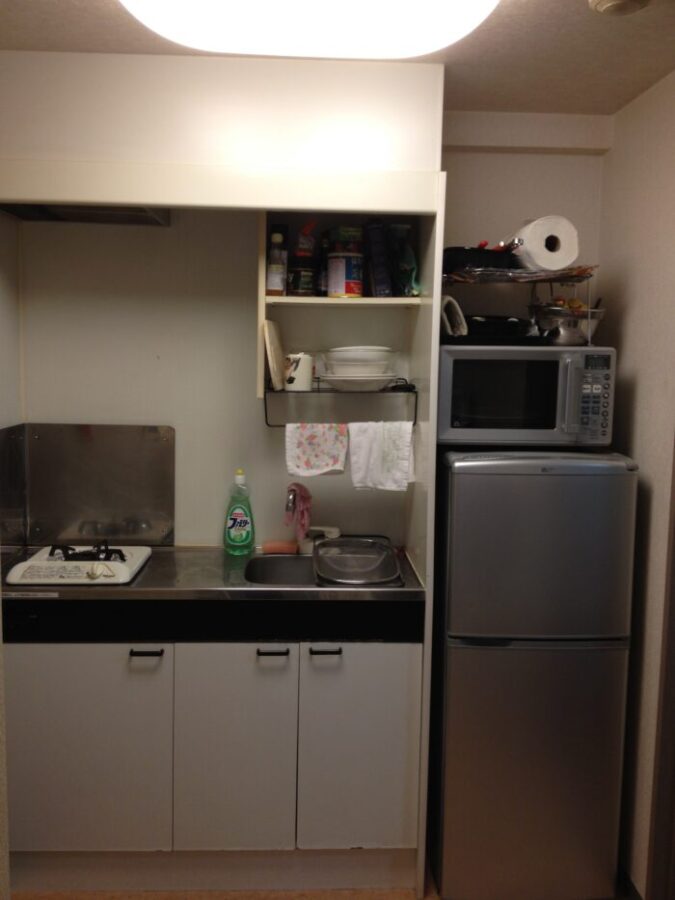 Very nice toilet room with more than enough room this time, no more bumping knees and shuffling around. The toilet itself is also equipped with many features including that warm seat ; )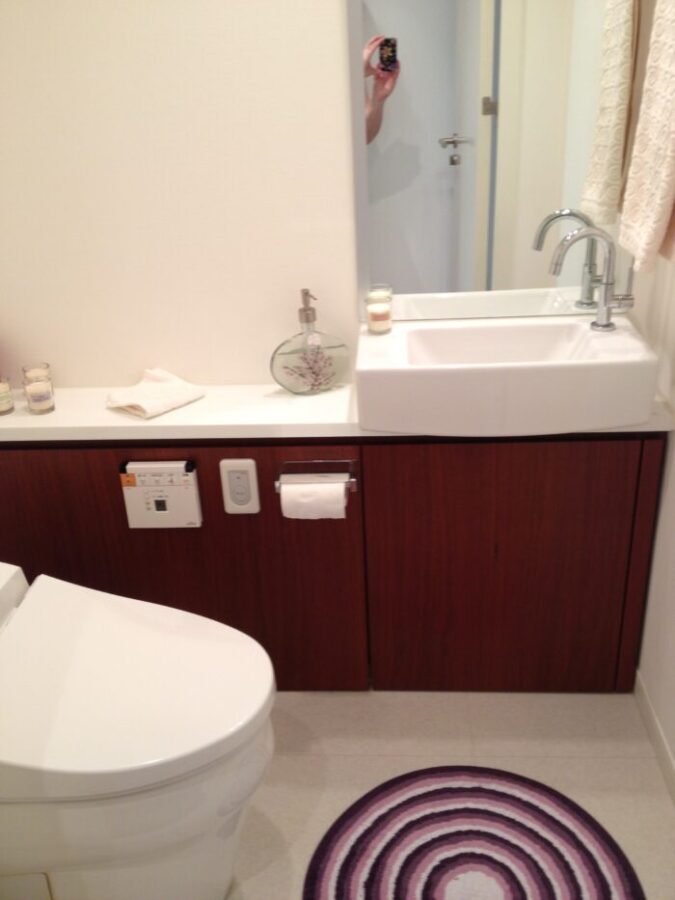 There is even enough room to store an entire package of 48 rolls of T.P. (thank you Costco!), some Kleenex and towels.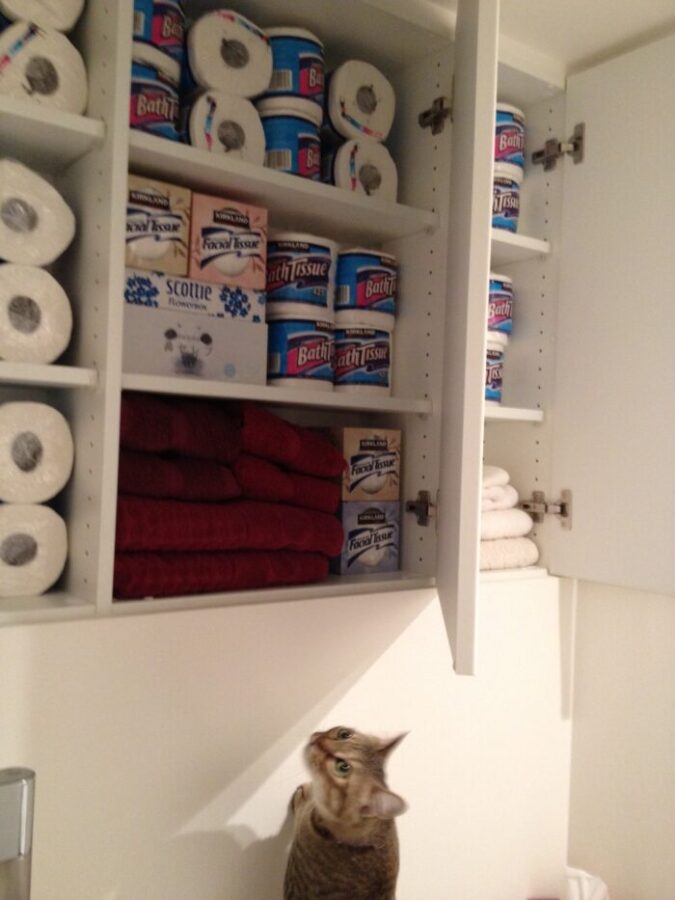 I am LOVING this!
The vanity, washer room and shower room are all in one area and flow really well. The vanity stores all of our toiletries (also with room to spare) and linen and I finally have the coveted 3-piece mirror for easier hair styling! Yes!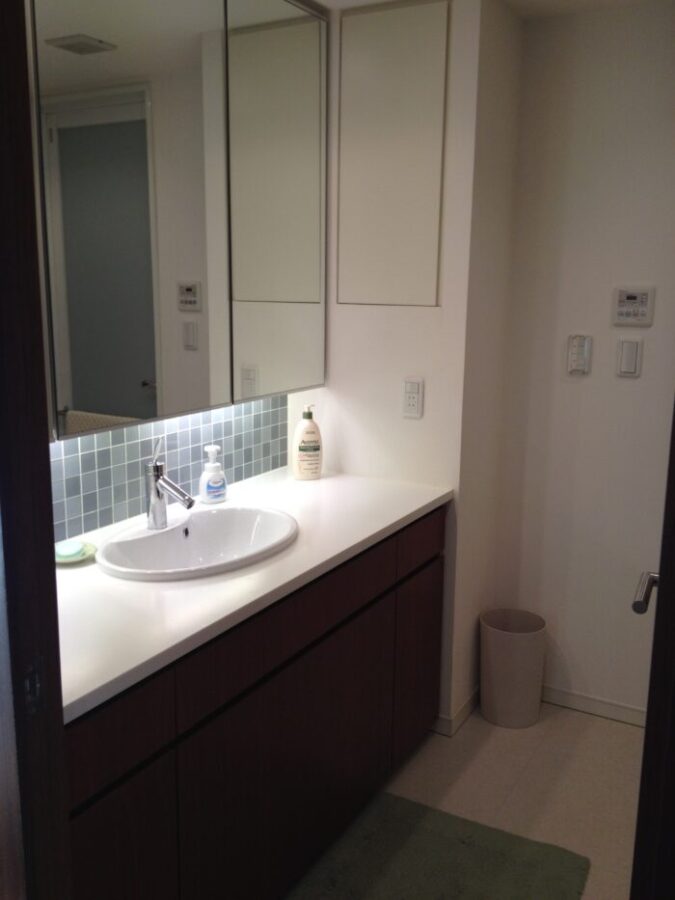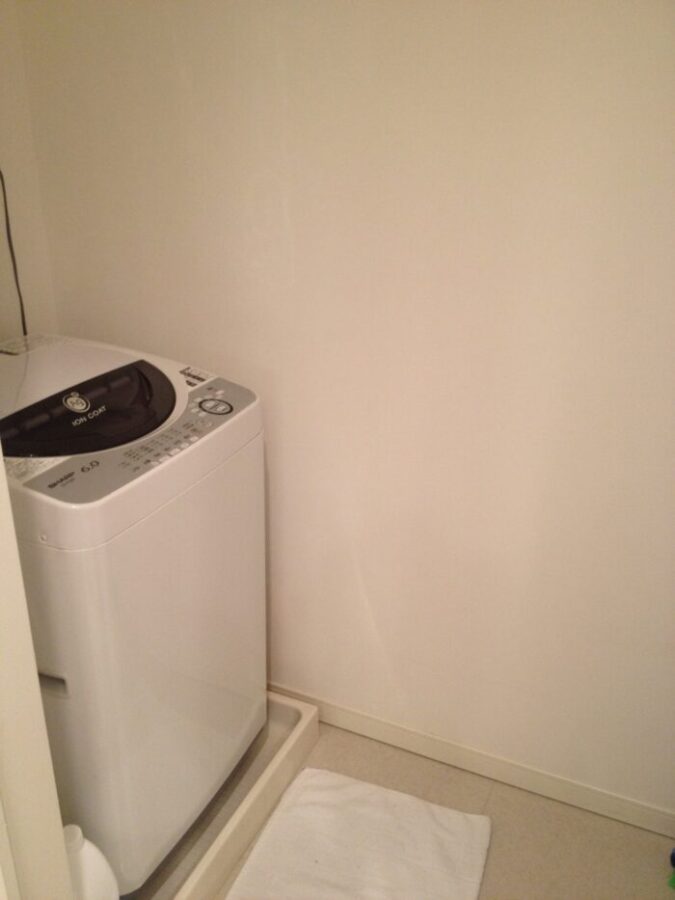 The Shower Room is FAB and doubles as a clothes dryer!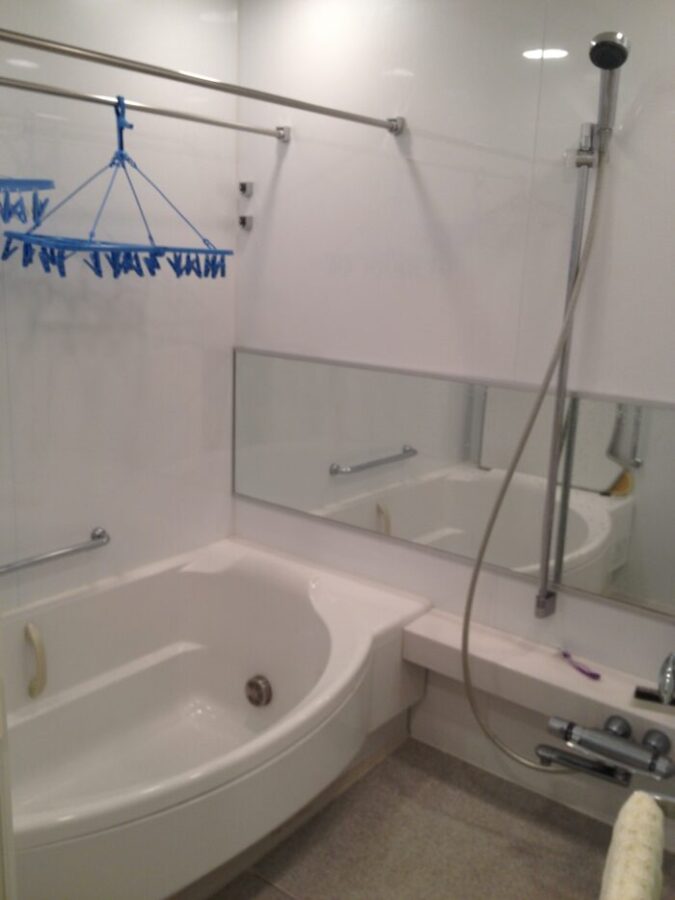 This shower room may not look like much, but believe me it is awesome. When I first saw it I was trying to figure out how we would get the shower-head to hang over the bathtub (LOL) and I reluctantly tried it as it is intended to be used, and of course it rocks! It is basically a giant wet room and the floor perfectly slopes to the drain by the tub. It is coated with a slip resistant, semi rough material that feels great under your feet, even when wet. There is a slide out spout under the super cool water flow and temperature control valve, and of course an adjustable holder for the shower-head. The standing area for the shower is roughly 4'x 5′ and anyone could walk in and shower comfortably in here! The tub is a great size and is equipped with a 2-piece cover that fits perfectly over the tub. 1 piece is sometimes used to keep the heat in while bathing.
But wait, there's more!
This multi-purpose, sealed room is also our clothes dryer. It is fitted out with a heating system with various fan speeds and directions and is meant to dry your clothes, and turn the room into a sauna type bathing room, wow!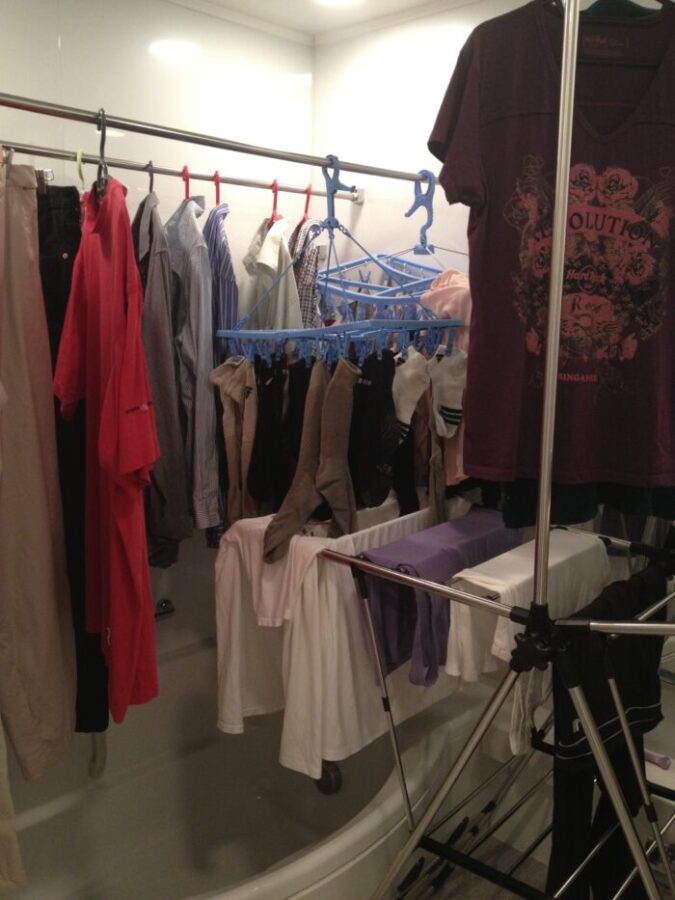 There are two long bars that look like shower curtain rods to the uninitiated, in fact they are meant to hang your clothes and various types of hangers with integrated clothes-pins (I have 2 blue ones). There are many different types of such hangers and you can see them out on balconies all over the city. I honestly never expected to be using clothes-pins in my lifetime! I also added a large drying rack which works well. It definitely takes longer to do the laundry and sheets are a real challenge along with the crunchy towels that definitely need fabric softener, note to self!
As if that wasn't enough, we also have a small storage locker in the hallway which is perfect for luggage and other bulky stuff!
Bye for now.
living in Japan