Yokohama Seascape
15 Jul 2021
Yokohama doesn't seem that big, but it's deceiving. It's only half the size of my hometown of Calgary, Alberta but the population is triple at well over 3 million people.
Being so densely populated you can easily get around by walking and find everything you need and a lot more you didn't if you can spare the time. As an example, today I walked to our new Ward office to change our address on our Alien Registration Cards (we are finally moving tomorrow!) ran a few other errands and when I arrived back home I had been gone for 3 hours and walked over 11km. I certainly did not hit the city's perimeter today but got where I needed to go on foot which is pretty cool!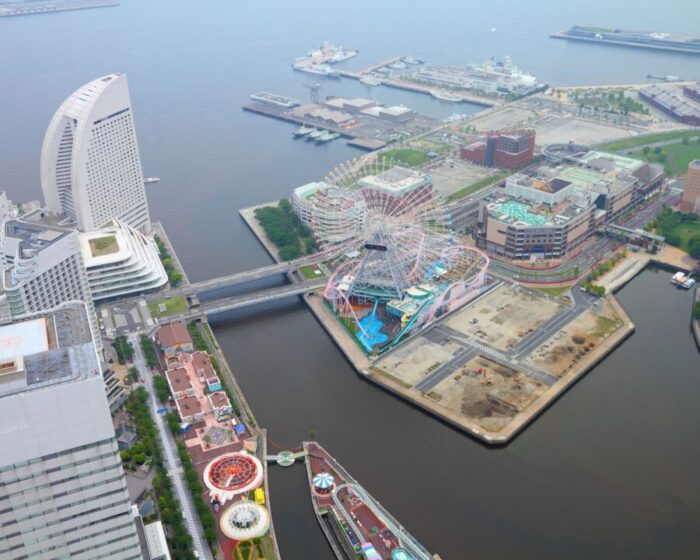 Minato Mirai from the observation deck on the 69th floor of Landmark Tower.
There is a beautiful boardwalk here that stretches out 4km with the ocean on one side, and parks on the other. It starts and finishes with big parks on either end and they are beautiful. I have no doubt that I will do a summer version of this post when they are in full bloom. It is almost always bustling with walkers, joggers, people with pets and other people who fill up the benches to watch the world go by.
As you may expect, the waterway here is very busy. Yokohama has its own port which was opened in 1859. I would love to take a glimpse back to this time and see the lucky few people who were traveling back then and what kind of cargo was being transported….. Today, it mostly facilitates cruises, passenger traffic and services like, customs and quarantine for international travel. There is a large container port and many industrial and commercial applications still in practice as well, although they tend to be a bit further down the coast from the heart of Yokohama.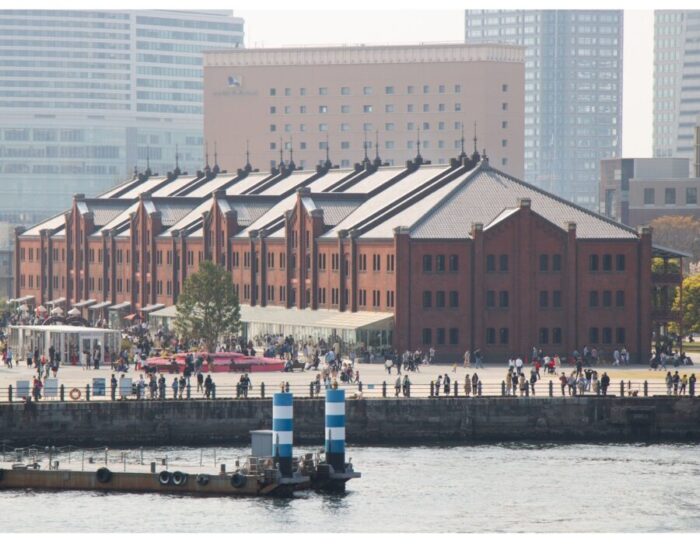 Former immigration and port authority of Yokohama, today The Red Brick Warehouse is an upscale multipurpose area with shops, restaurants, performing arts center, and hosts multiple festivals every year.
I would guess the two biggest visual landmarks for Yokohama are the Ferris Wheel and the InterContinental Hotel which is shaped like a tall sail, very similar to the Burj Al Arab in Dubai.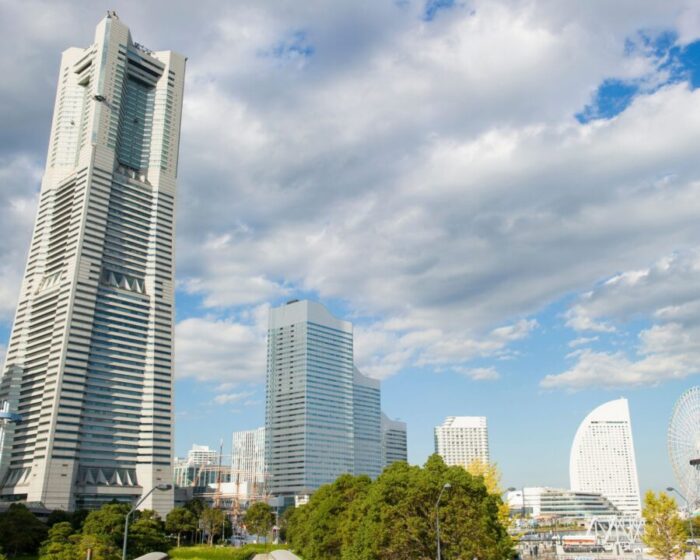 This area has many high points which include several shopping malls, loads of restaurants, scenic walkways, a small amusement park, and the Hard Rock Café. This is where you will find Landmark Tower whose first 4 floors are devoted to shopping & eating, followed by a gym that has a pool with a retractable roof. There is also a 5-star hotel and an observatory on the 69th floor with 360-degree views of the city. That will have to wait until we replace our camera, and for a clear day which is easy to come by here. How very nice that is! It is the tallest building in Yokohama, and 3rd tallest in Japan at 972 feet high.
Feb 2012
living in Japan