Wanted: Online business ideas that actually make passive income. Found: The ASIGO System (Review)
29 Oct 2022
The ASIGO System (fueled by Ampifire) will teach you how to use a dropshipping website to sell high-demand eServices to an endless source of ravenous buyers. You can do this online business from home and enjoy the recurring income stream. Read the review and get the best bonuses available today.
The ASIGO System Review & Best Bonus Package
If you know who I am or follow any of my work, you know my business motto:
use the least amount of time, on the most efficient activity, that will deliver the biggest & best results.
(Skip down to "The ASIGO System – An Online Business That Pays" to start reading about it now)
I developed this effective motto after losing too many years trying to push big boulders uphill with my Amazon private label business (6 long years to be exact) and I promised myself to make better choices from then on – and I have.
In my exhaustive search for a better online business model, I uncovered the truth about the top 15 eBusinesses available today. Let me tell you, they are NOT created equal. Not by a long shot.
I created a short course called The Legit eBiz Assessment that answers these questions for all 15 business models:
– how much money it really takes to get started,
– what are the ongoing costs,
– how complicated is it,
– what equipment and software is required to run it,
– what is the risk factor for the business,
– how much time will it take to get started, and keep it going,
– and is it sellable down the road?
(email heather@legitebiz for more info on the Legit eBusiness Assessment)
In my opinion, these are the things we need to know in order to make an informed decision and avoid the risk of burning through your hard-earned cash and precious time by going down the wrong path.
If I have the answers to those questions I never would have started a private label Amazon business because that particular model turns out to be:
– the most risky
– extremely cash intensive
– has very high monthly expenses
– requires more time than 1 person has
– is very complicated
For all of that, you get less than 25% chance of making lots of sales and hopefully a profit – because making sales does not guarantee that you will break even or profit! Now if you chose your product well and negotiated wisely – and all the stars aligned you might become wildly successful!
But beware! If you are one of the few lucky ones who does make it and you do well, there will be competition and it will be fierce. Other sellers will notice how well your product is doing and they will copy you and one of those competitors might even be Amazon themself! They have been under scrutiny for unfair business practices, using 3rd sellers (to take all the risk) to find and create the most successful products and then go into direct competition with them, often using the same supplier. Not much mystery about who is going to come out on top of that scenario and Amazon have even been caught giving themselves favorable treatment over 3rd party sellers who are paying for ads and still rank under Amazon's listing.
This is an uphill battle teeming with many many completely unforeseen obstacles that can come out of nowhere and have no solution other than money. Skinny profits are quickly siphoned off and it is a highly competitive, very risky business that still does produce a few wildly successful people, but at a much lower rate than the recent years gone by.
Even though I am baffled as to why anyone would want to intentionally go up against such steep odds, I would seriously only recommend this particular business model to about 3 out of every 1000 eager entrepreneurs. It will be a tough go.
I went into great detail on this to provide a stark contrast with the polar opposite business model, and possibly the top model (at least top 3) for my assessment (that needs to be updated to include this) and it is: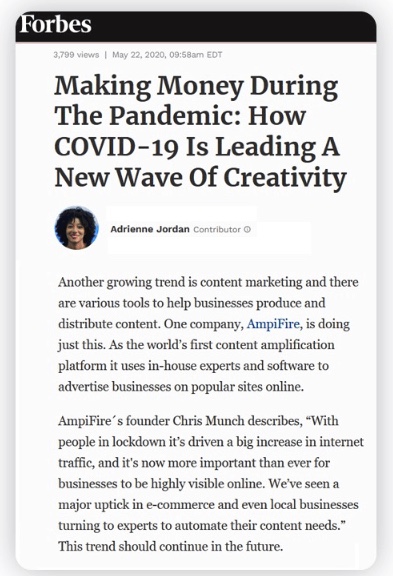 The ASIGO System – An Online Business That Pays
The most exclusive, DFY copy & paste business that lets you sell their top-rated eServices (in huge demand & easy to sell) under your own brand with zero fulfillment.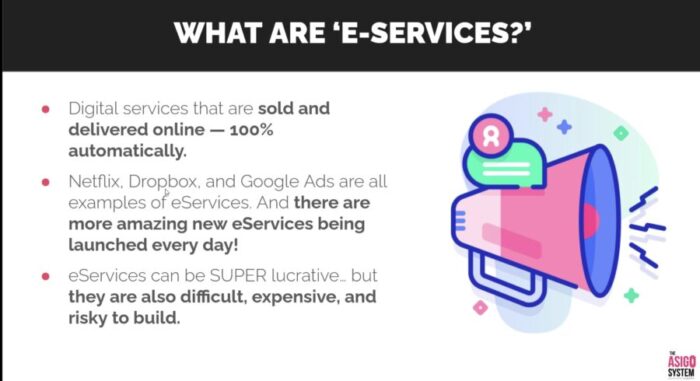 eServices:
Today this is a groundfloor opportunity.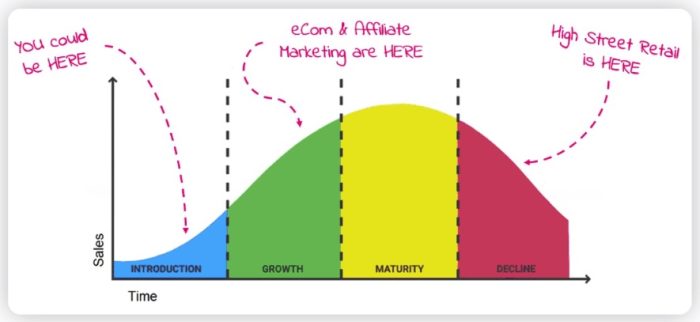 Assessing The ASIGO System:
Cost: Single Pay $2,995 -or- 4 x $995
Ongoing Costs: Minimal
Complication Factor: Easy Start-up With Minimal
Equipment Required: Device + Internet Connection
Risk Factor For This Business: Almost Non-Existent
How Much Time To Get Started: 2hr/day for 90 days
Time To Operate After Start-up: A Few Hours A Week Minimum
Is It Scalable: YES
Competition: Very Little
Demand For This eService: Incredibly High With No End In Sight
Is This Business Salable: YES!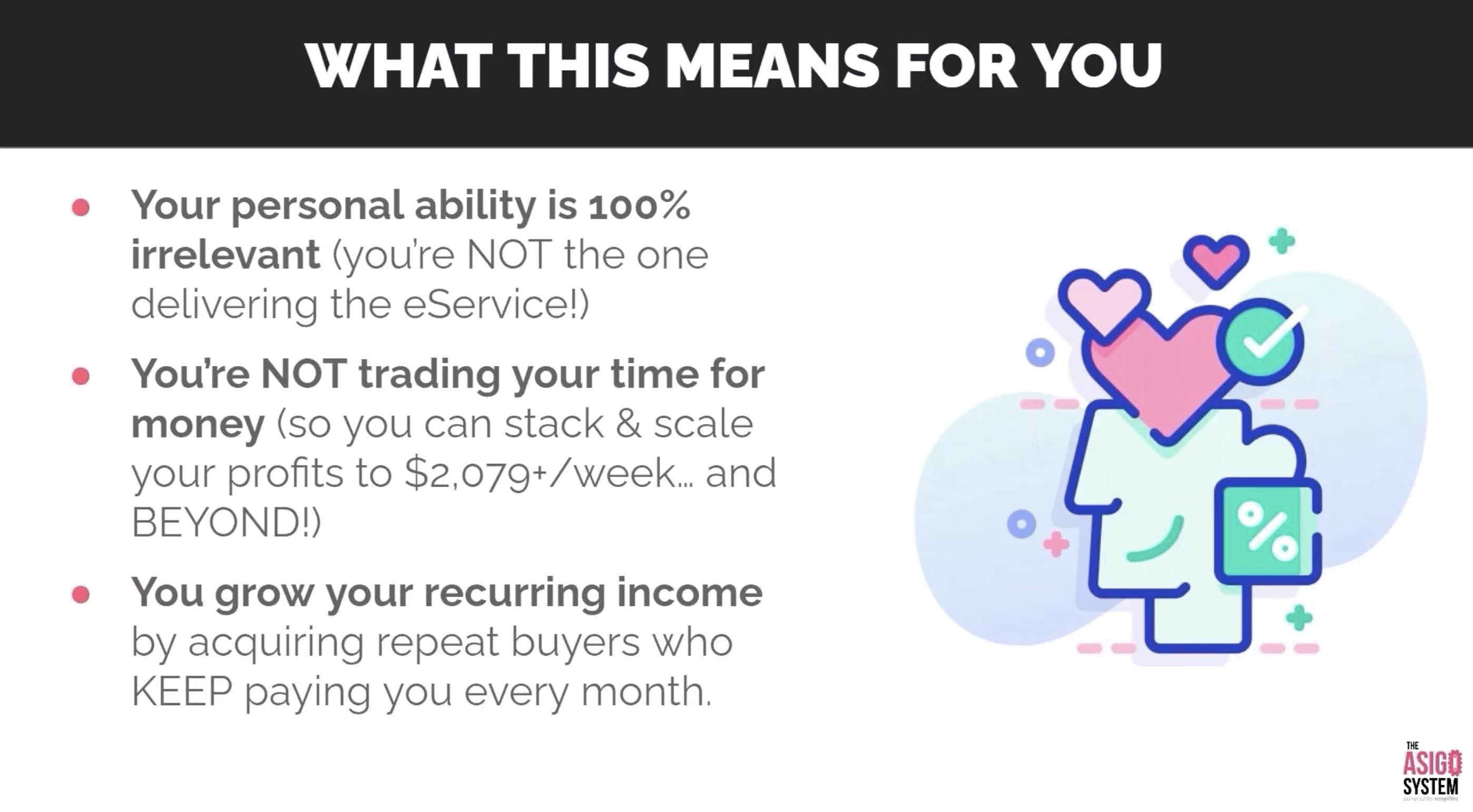 Other Online Business Ideas:
They just don't compare to The ASIGO System.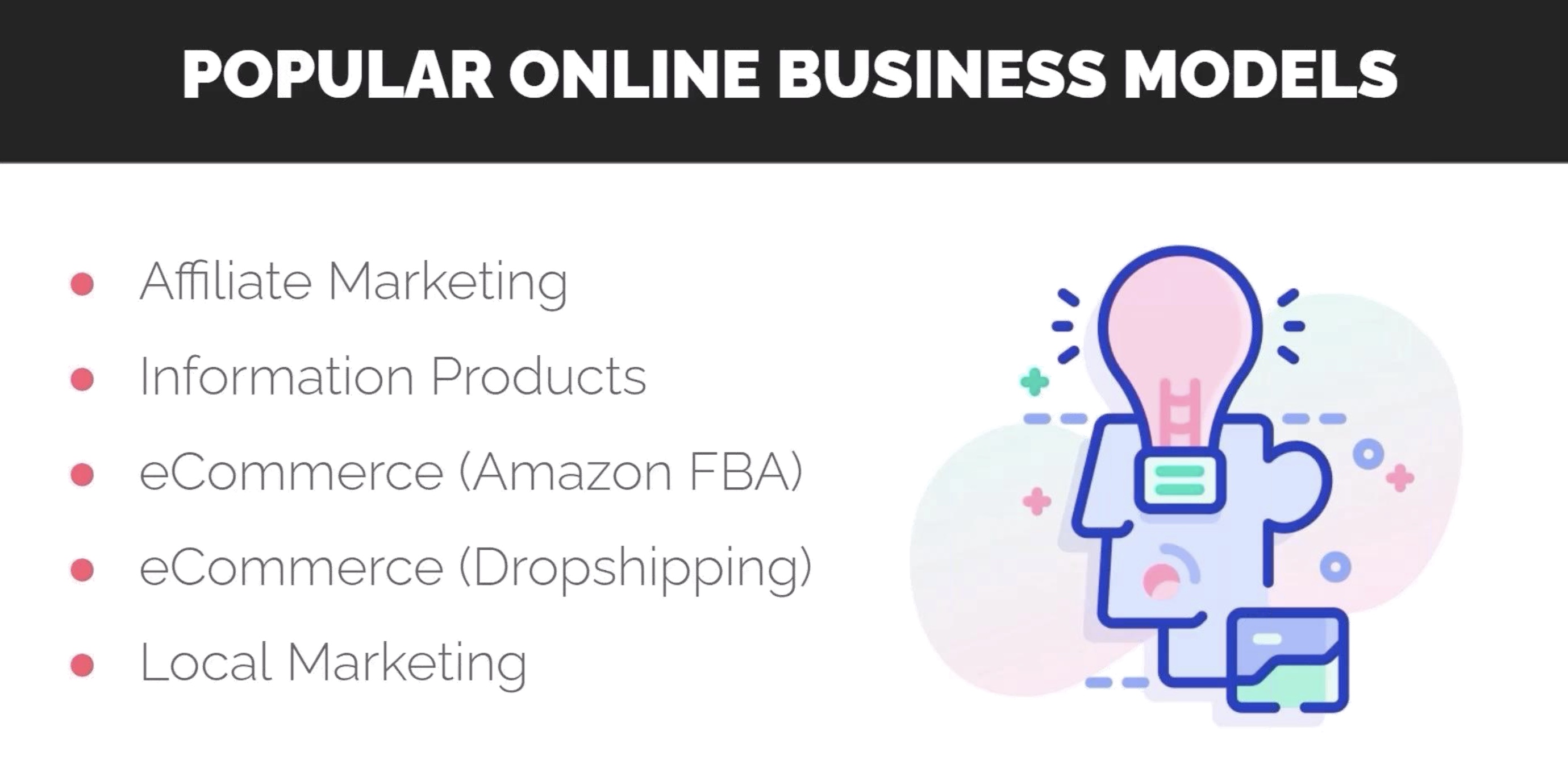 There are lots of built-in challenges with these businesses, but The ASIGO System makes it so easy and has almost no complications or added expenses compared to other models.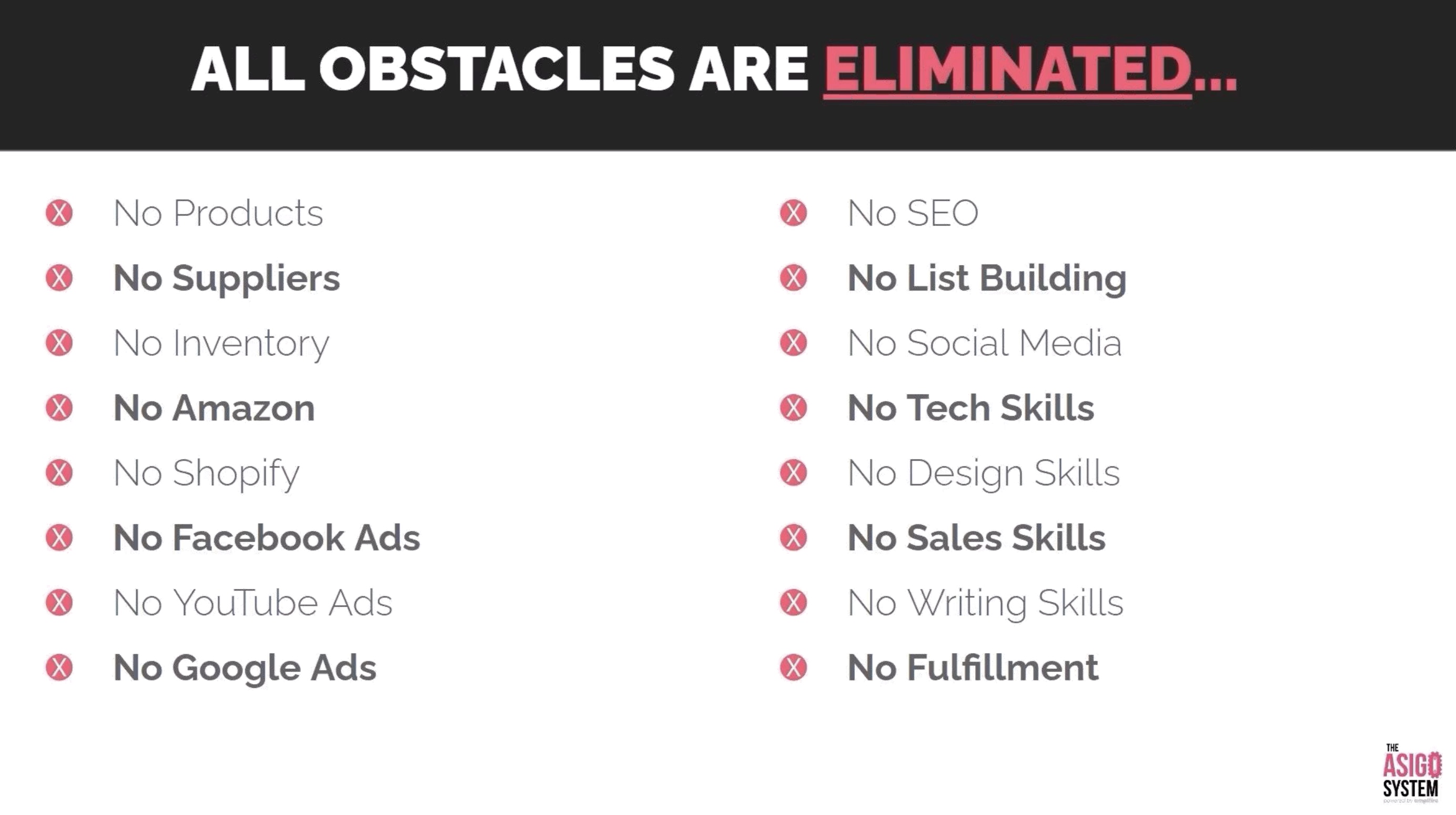 Before I get into what this business is all about, let me ask you this….
What is the biggest problem any business or entrepreneur has?
Any guesses?
If you said traffic, or getting new leads you're right. If you don't have eyeballs on your offer, you're dead in the water.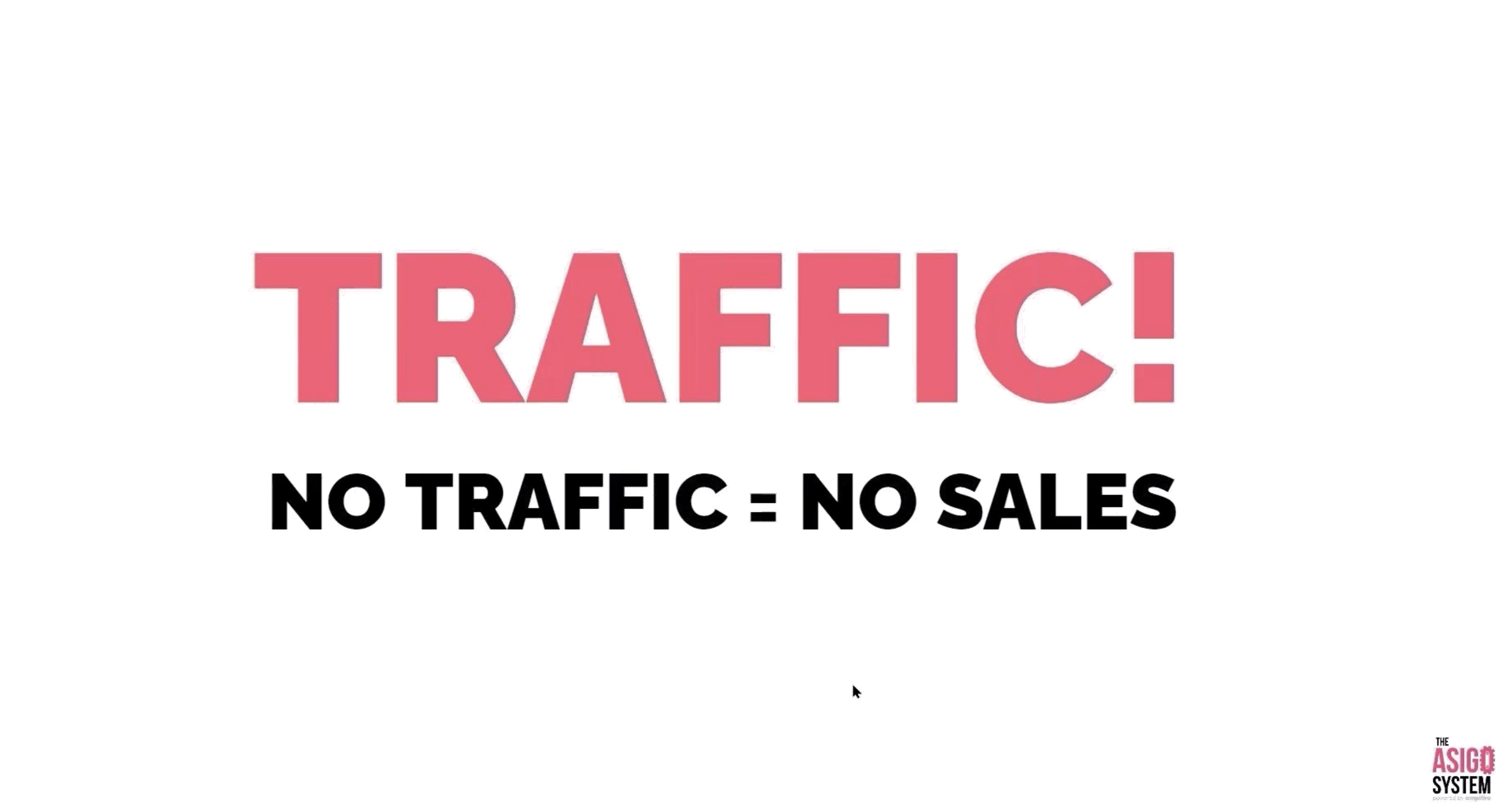 Without Traffic It Will Not Matter:
– how great the quality or service is
– how superior it is
– how many great reviews it has
– or even what the price is
If people don't know your product or service exists, how can they buy it? "Build it and they will come" definitely does not apply to businesses or websites!
Business owners and entrepreneurs everywhere know this all too well and that's why they historically shell out big bucks to subject matter experts (SME) who have the specialized skills to drive traffic whether it's in the brick-and-mortar world or online.
---
You might be wondering why the businesses don't save their money and drive their own traffic and the answer is twofold:
1. In the vast majority of cases they don't know how especially online.
2. 100% of them are so busy (and often overwhelmed) running the operations of the day-to-day business that they don't have time, even if they did know what to do.
This is why there will always be an abundance of businesses willing to pay big bucks to the right guy or gal with these specialized skills who can solve this never-ending problem and keep the business afloat with a steady stream of fresh leads.
Look here at what 1 successful campaign looks like (not many business owners would have the time or skills to execute this killer strategy):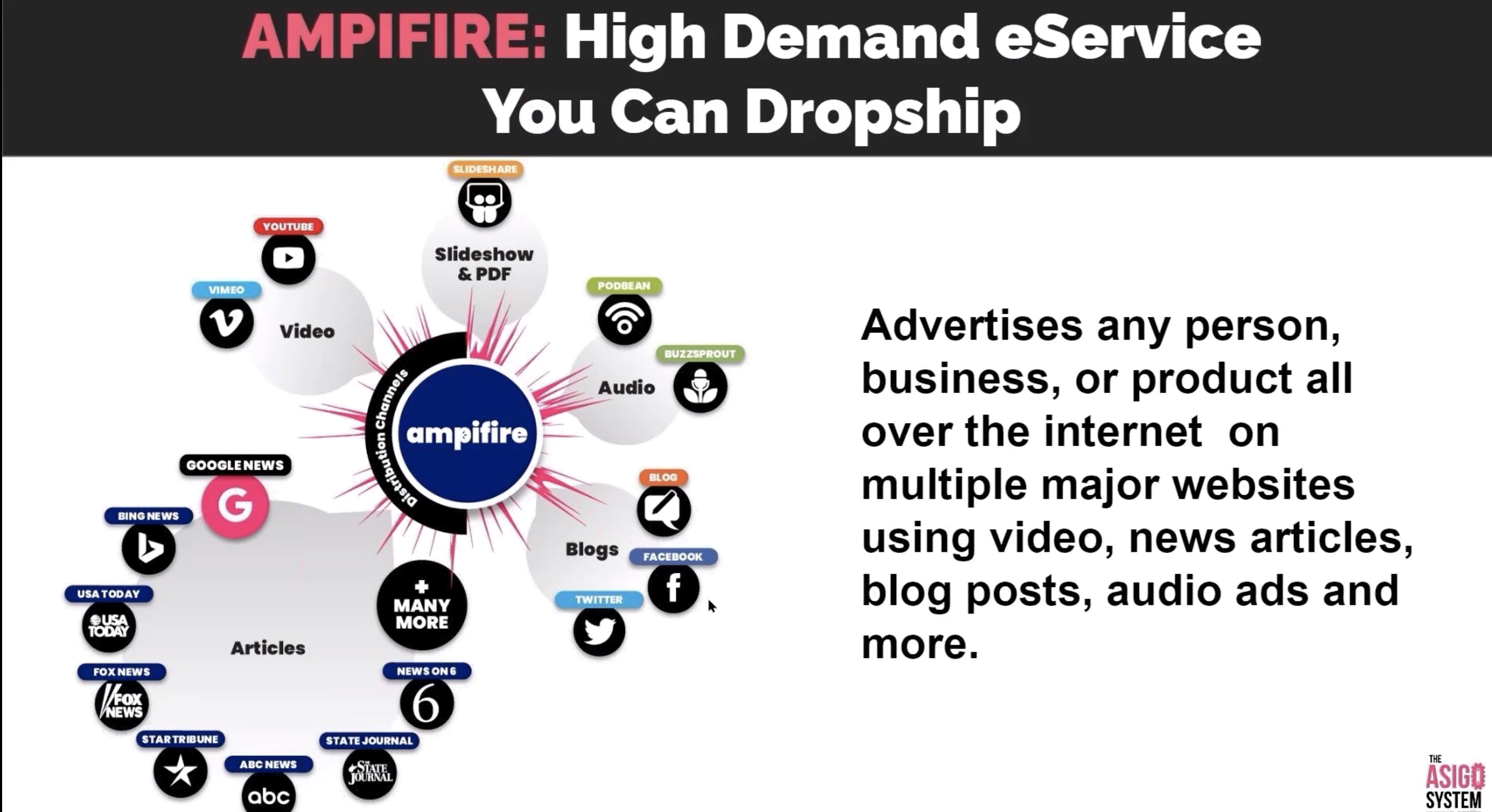 This is a very specialized skill that usually comes from years of learning with a big price tag, whether it's from education or real-world experience.
But don't let that scare you off, because all the heavy lifting is done for you (DFY).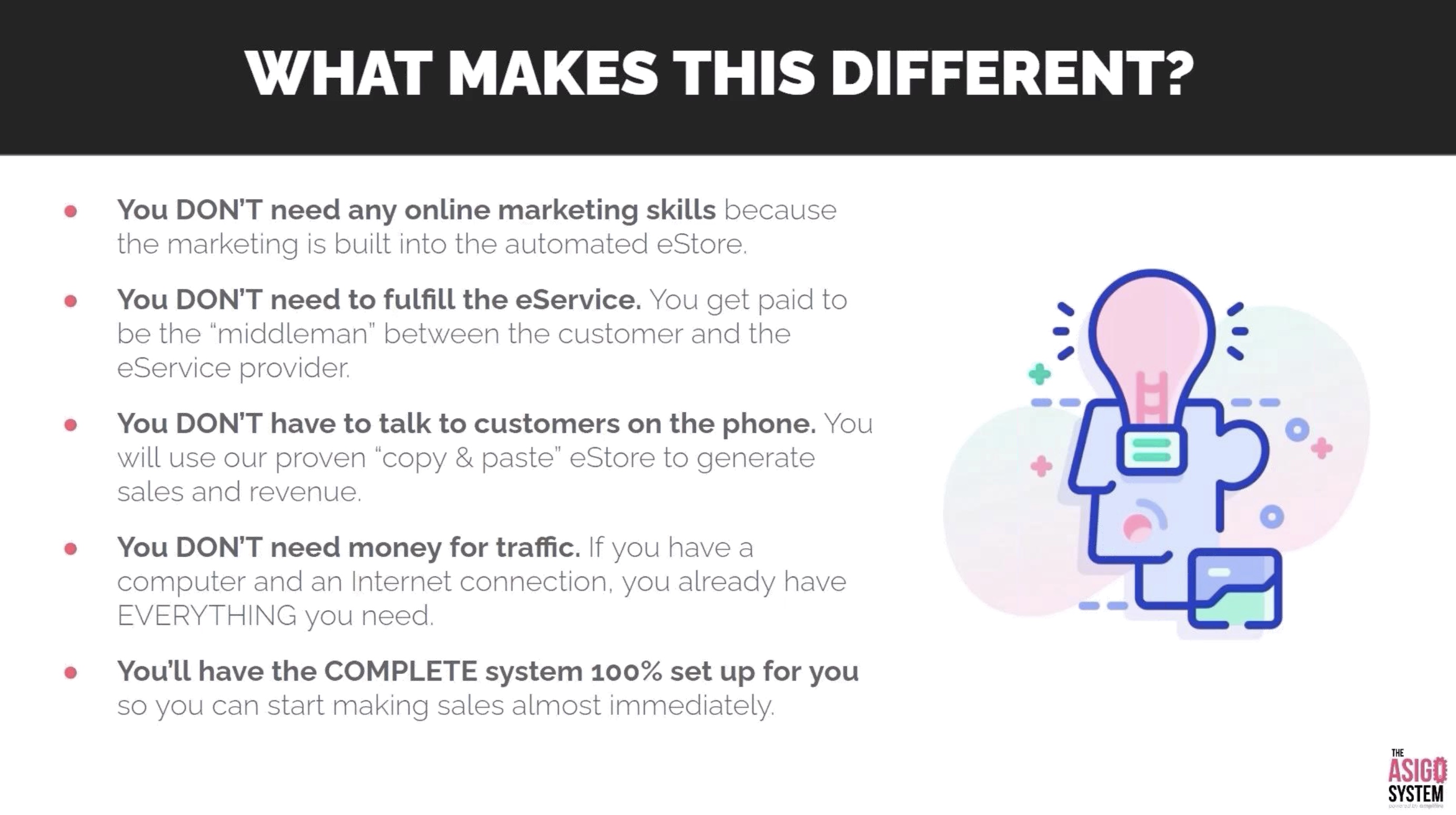 If you think this sounds like a bit of an opportunity, you would be right again! If you are wondering how someone like you, who may not have these specialized skills, can pull this off?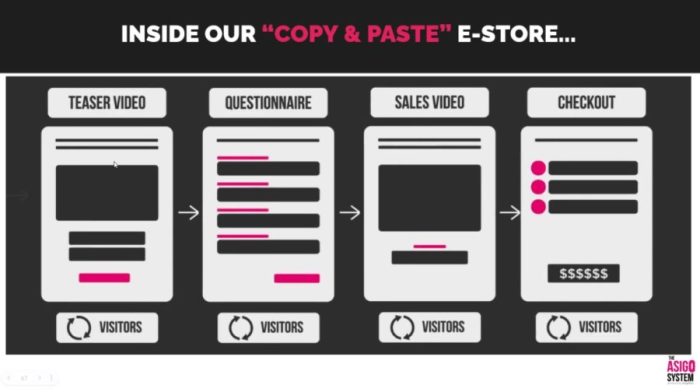 Well if you can copy & paste previously proven templates and models, you can do this!
The ASIGO System Fueled By Ampifire
The smart creators of ASIGO call it a dropshipping eService store and to be honest, when I first heard about it, I didn't really understand what those three words meant when they were put together like that! So I figured there must be a lot of other people who are confused about it too, so thought I would break it down and clear up any confusion.
---
This ASIGO System teaches people like you how to act as the middle man or woman between a business in need of leads, and a little-known but highly effective system (Ampifire) that can generate highly qualified leads on demand while increasing one's online presence.
---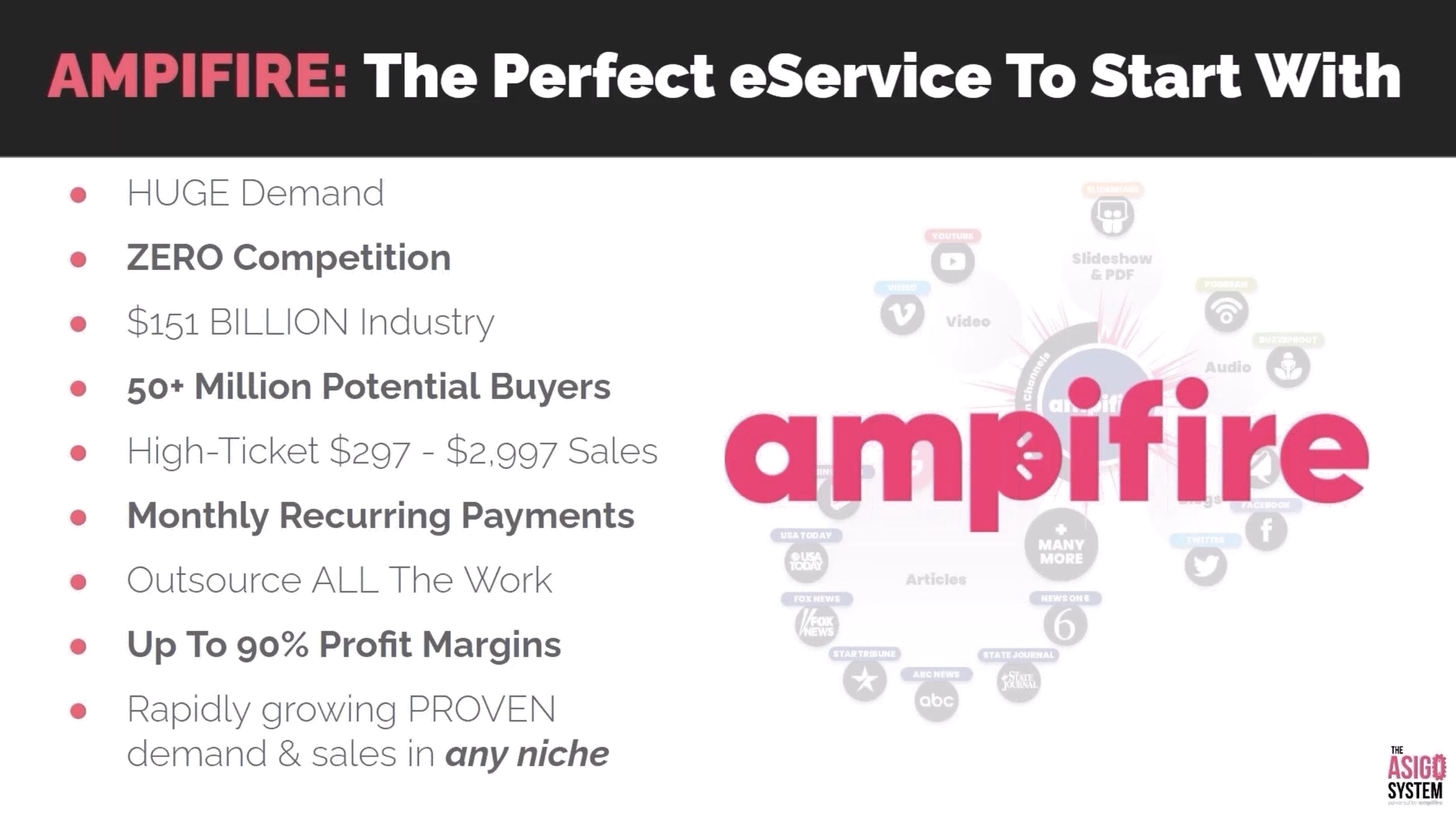 The best thing about this business model (this is the drop shipping part) is all you have to do is connect the businesses with the service, and then you get paid!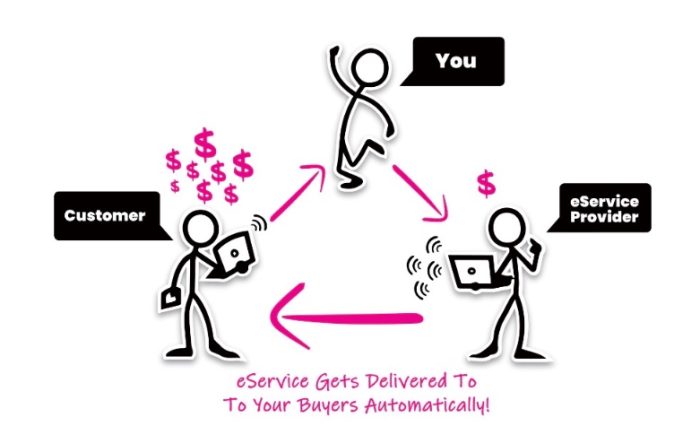 Remember my business motto:
Least Amount Of Time & Effort + Most Efficient Activity = Fastest & Best Results
The ASIGO System nails it!

What really makes this business model so great is:

– all you need to run it is a device and an internet connection

– it's not complicated and very easy to learn

– you can get recurring income from 1 sale

– it's highly profitable with very little expenses

– right now there is low competition (this is ground floor today)

– people can be up and running quickly

– it works in just about any industry

– you don't need an existing email list

– no inventory

– no employees

– no storage, shipping, logistics, or suppliers

– no customer service after the sale

– no tech skills required

It only takes 3 simple steps to work: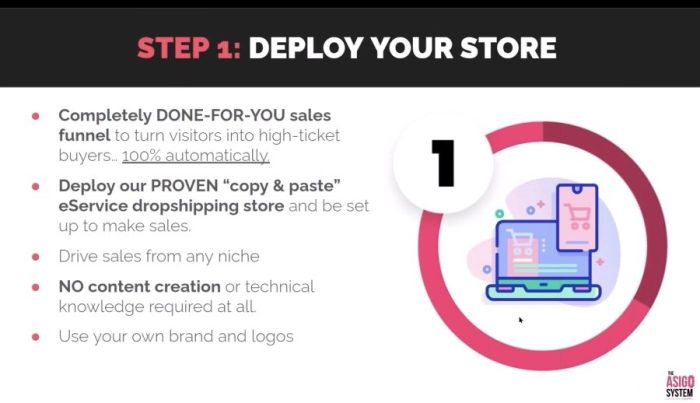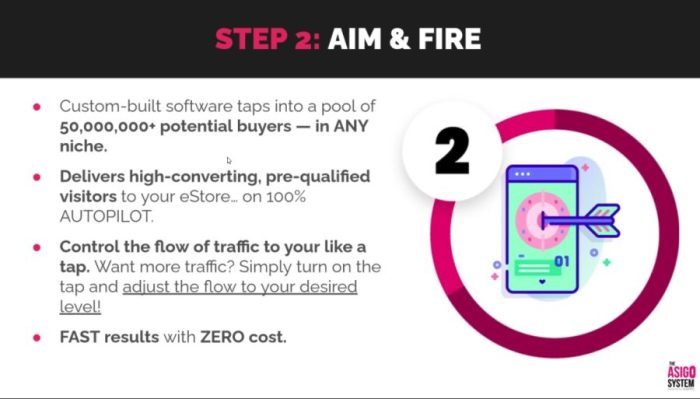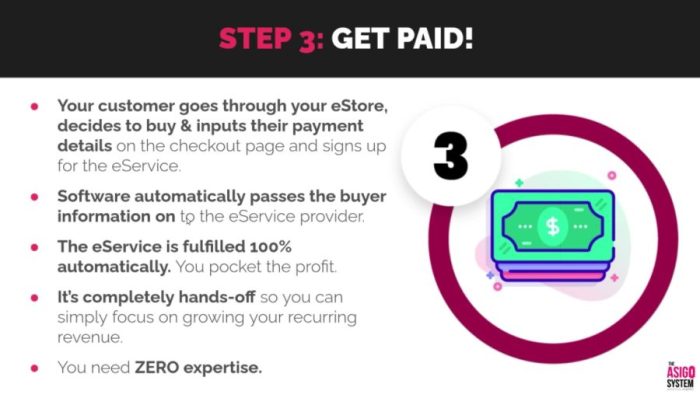 Does the idea of building a Future Proof Business appeal to you?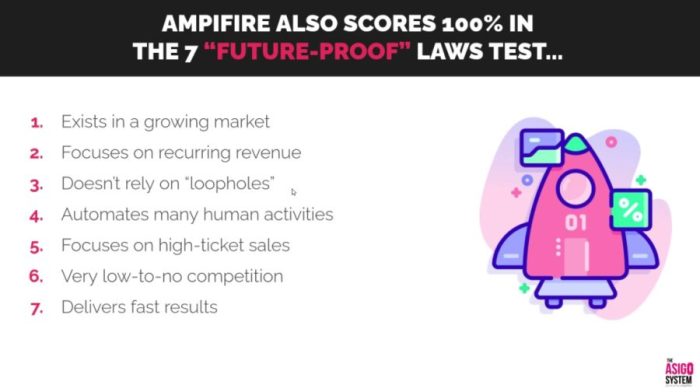 It's important to know that like most of the opportunities you see from me, The ASIGO System will only be open for a short while. Then they close the doors and focus on onboarding the new eager entrepreneurs, and you could be one of them.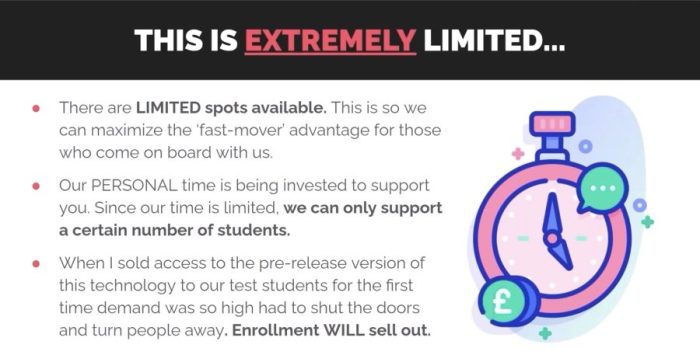 CLICK HERE to learn more about this cutting-edge business model that will make several 6-figure+ entrepreneurs in the coming months.
In the meantime, allow me to decipher the industry jargon and explain in simple terms how this works.
First off the price is mega value, more value than I've seen with any other programs and I know this for a fact because I have been on the other side paying retail for the services you get to sell as your own, or under this program.
Here is the "newbie's explanation" of the fancy lingo that you might find confusing…
When they say:
whitelist
dropshipping eServices
in your own eStore (holy smokes is that complicated)
What they mean is:
use your own brand/name (whitelisting)
to offer a killer DFY digital service (dropshipping eServices)
from your website (eStore)
Isn't that much easier to understand, lol?
The ASIGO System grants you distributor/wholesale rights to the #1 system in the world for:
1) finding warm leads on demand for any niche or business,
2) while splashing the business far and wide across the internet for large-scale exposure.
Plus your lucky customers will get published and seen on highly regarded sites they could most likely never get covered on by themselves. I'm talking about sites like Google News, MarketWatch, YouTube, Twitter, Yahoo Finance, and more.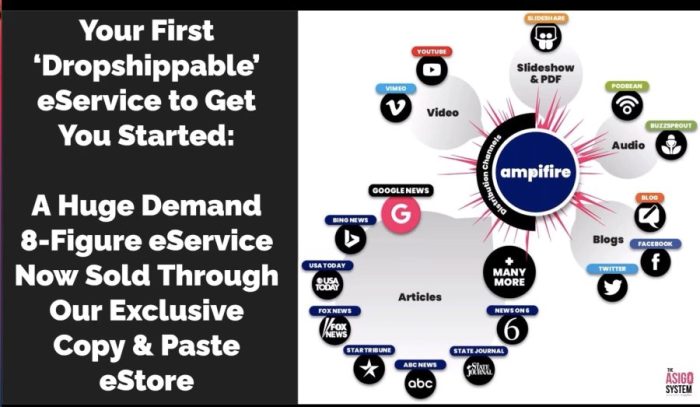 You don't need a degree in business to see how beneficial this is and how it could even become the lifeblood for some businesses and entrepreneurs.
The reason your customers will love you and this system so much is that you can flip the switch on for them anytime they need an infusion of fresh buyers at their door. Trust me, this never gets old and they will never want to turn it off!
The system is:
– proven
– almost completely done for you
– and does what it says it will
(it really works)

Right now, this is a ground-floor opportunity that is teeming with early advantage benefits. The people joining today and creating their own eStore will set themselves up for life with recurring orders and income from businesses that will never want to turn off the lead faucet.
Have a look at how fast your income can multiply: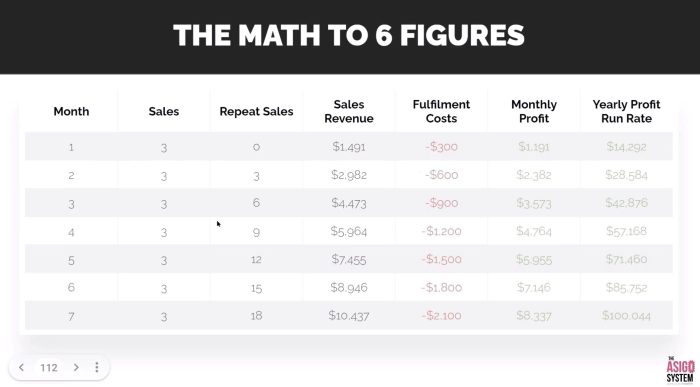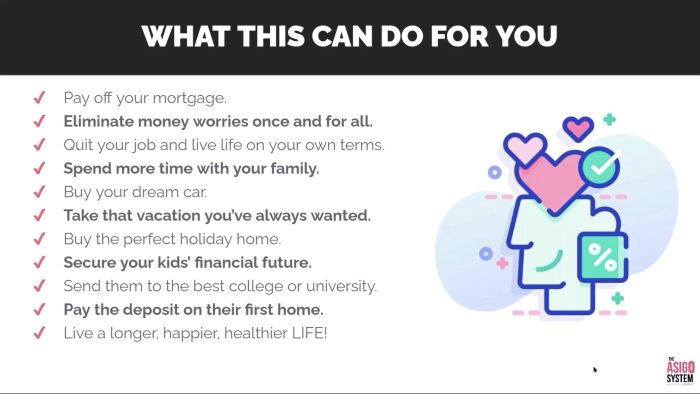 Do not risk missing out! CLICK HERE NOW to watch this -LIMITED TIME- live workshop training now.
The ASIGO System Review:
– currently the only system in the world with this dropshipping eService
– almost all of the hard work and tech has already been done
– you can simply clone & duplicate their winning eStore formula
– and have the rights to sell their exclusive service for a huge mark-up
– to a never-ending supply of businesses and entrepreneurs who are always hungry for leads
What your prospect will experience:
Through the magic of technology and ASIGO, your leads will end up on your eStore (that was duplicated from a proven and highly effective model so you don't have to create it) where they will be introduced to the service and flow through the sales funnel on autopilot.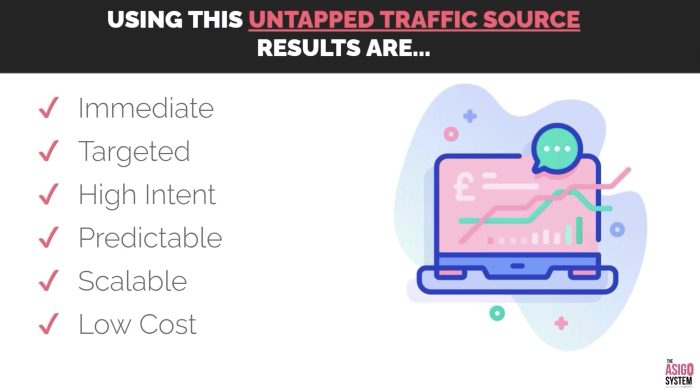 This is almost completely DFY, and everything else you will be trained on and given ready-made materials (like email sequences) to utilize for the highest possible sales.
What's Included In The ASIGO System?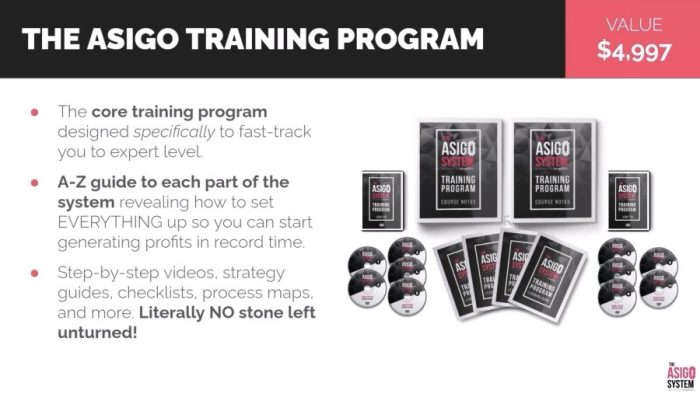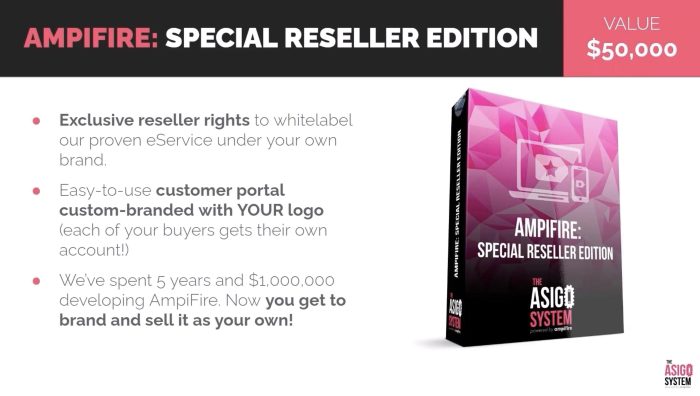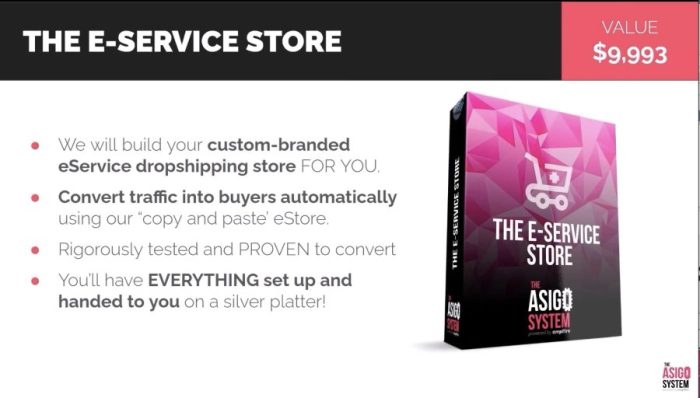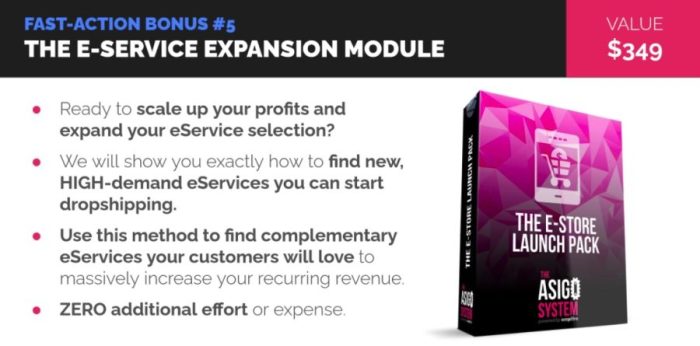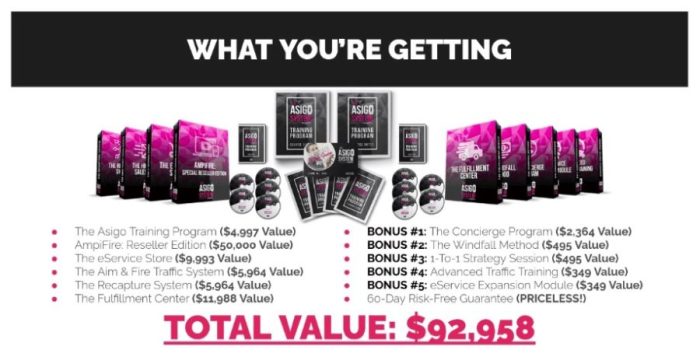 CLICK HERE TO JOIN THE ASIGO SYSTEM NOW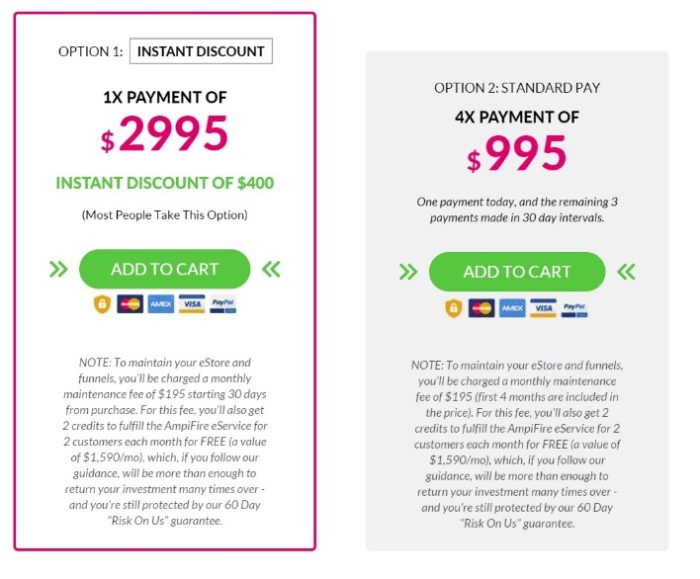 Do not risk missing out! CLICK HERE NOW to watch this -LIMITED TIME- live workshop training now.
EXTRA Bonuses For The ASIGO System – Exclusive on This Page Only!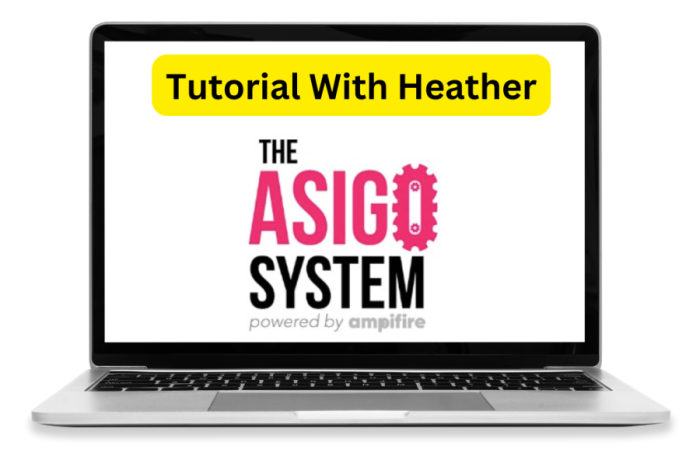 1. Step-by-Step Tutorial on creating your first Ampifire Campaign.
When the time comes that you will create your first campaign, this tutorial will save you loads of time with the software and amp creation. Get a high-level view of the entire campaign and see how one piece flows into the next. Also, get Heather's tips on how to seamlessly move from one section to the next.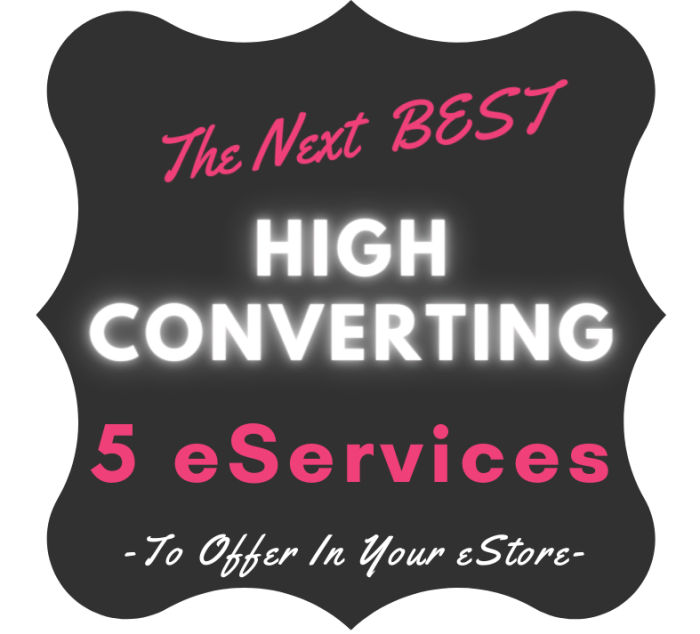 2. My exclusive top-5 list of the next (easy sell) eServices to offer your customers.
You don't have to worry about what else you can offer to your customers because I have the ultimate list of 5 more eServices that are easy for you to deliver and they convert really well. Each one has been selected based on which eService will be of the highest benefit to your client next, and have the highest probable conversion for you so that you can make more money. This will be provided once your eStore is active.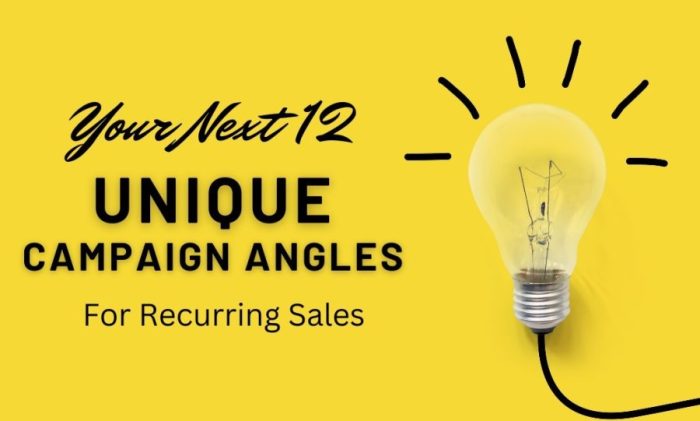 3. Killer client proposal letter for the next 12 unique, highly effective campaign angles & subjects.
This is designed to multiply your earnings even faster with highly compelling subjects to suggest to your clients for their next campaign. Once they see how effective the amp campaign can be many businesses want to run more using fresh content and angles.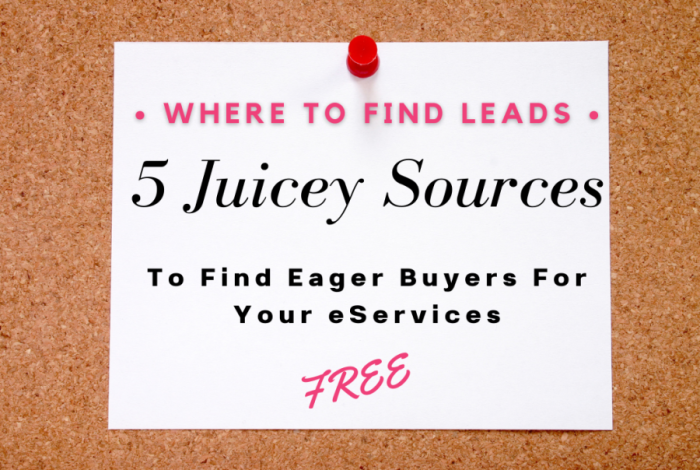 4. Very unique, top 5 often overlooked sources for you to find leads to sell to.
If you are worried about who you are going to sell this killer eService to, I've got you covered! You will get my absolute Top-5 most exclusive, uncommon, often neglected sources of leads you can draw from and it will not cost you a dime to get in front of them.
If any part of you is hesitating to join because you are worried about getting leads, DO NOT let that hold you back because it's an excuse. The reality is there is an abundance of businesses and entrepreneurs who want and need this service right now and they are willing to pay the person who can deliver – and that person can absolutely be you.
Remember, you only need a few sales to start earning a living wage in pure passive income!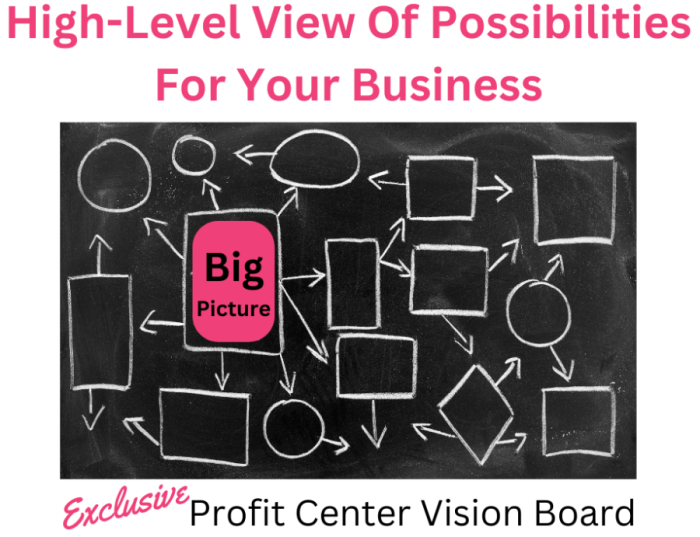 5. Super exclusive mind map of a potential larger picture for this business model.
See how a few other key elements can be integrated with this business to form a larger and more extensive profit center for yourself. You don't know what you don't know and it is very hard to get a larger perspective when you're "in it". This mind map (or parts of it) may become a very important component(s) of your overall business path and can save you countless time and money from not going down the wrong path, and knowing from the start how several different facets can be woven together to create a highly successful profit center for you.
These exclusive bonuses are only available from Heather on this page. If you want an extra edge – and want to get your recurring income stream going as fast as possible CLICK HERE to get started now.
*These bonuses are in addition to the ones you will also get from Chris & Jay!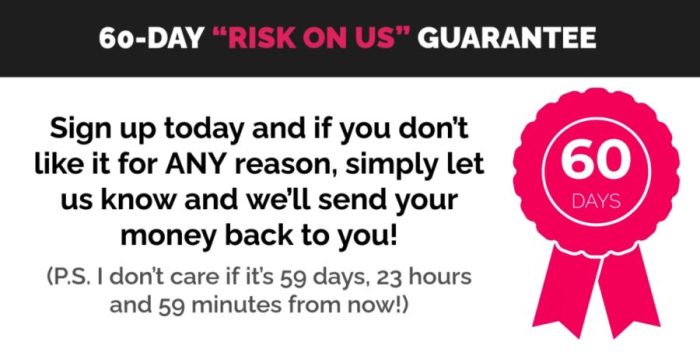 You may not know me, but I've been around the online space for over a decade. I know Chris Munch and Jay Cruiz and these guys are the real deal.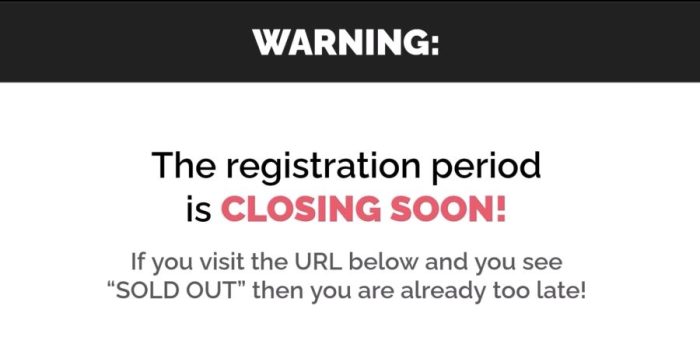 Do not risk missing out! CLICK HERE NOW to watch this -LIMITED TIME- live workshop training now.
Of this sounds interesting to you, click the link above and learn more now. The doors are closing soon and this ground-floor opportunity will be withdrawn.
Look what other people like you are saying about The ASIGO System, Chris, and Jay!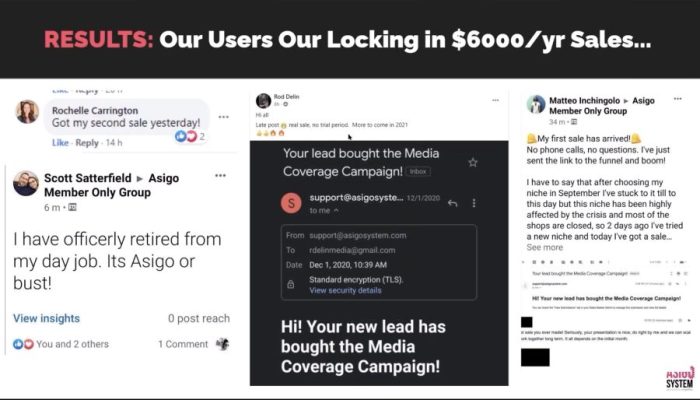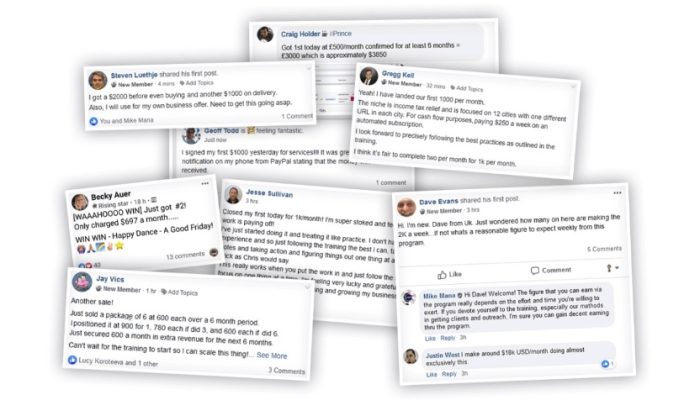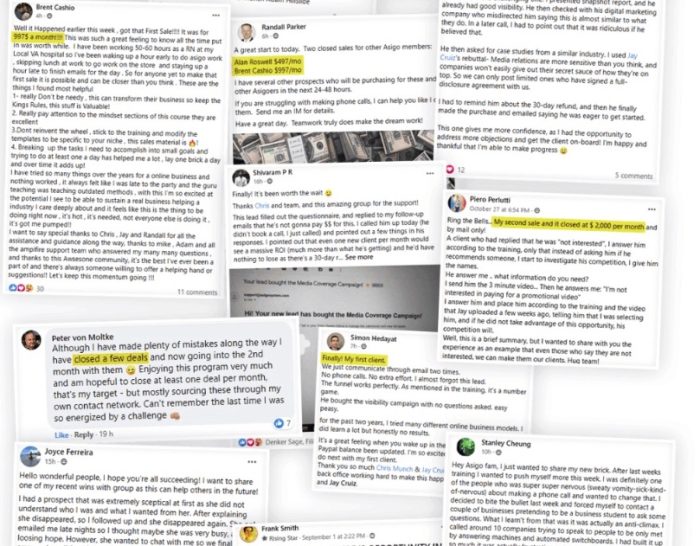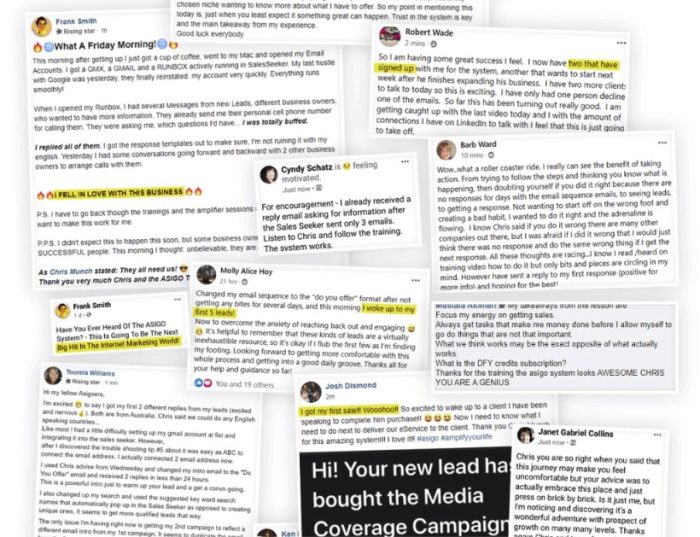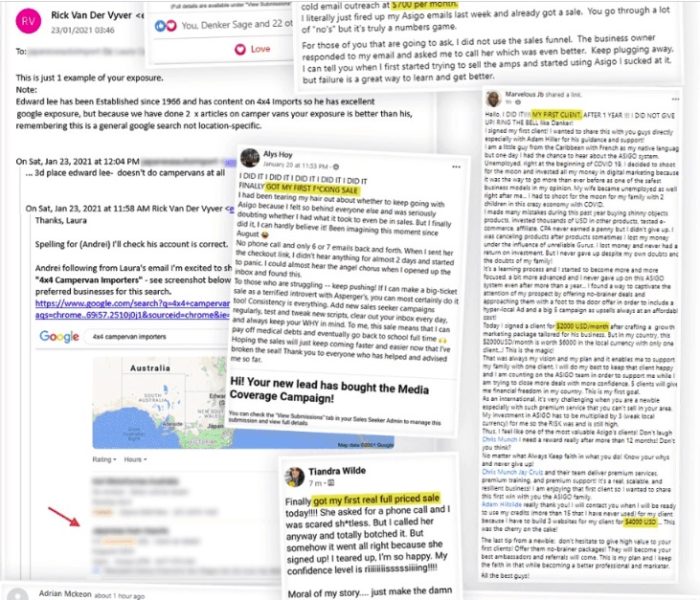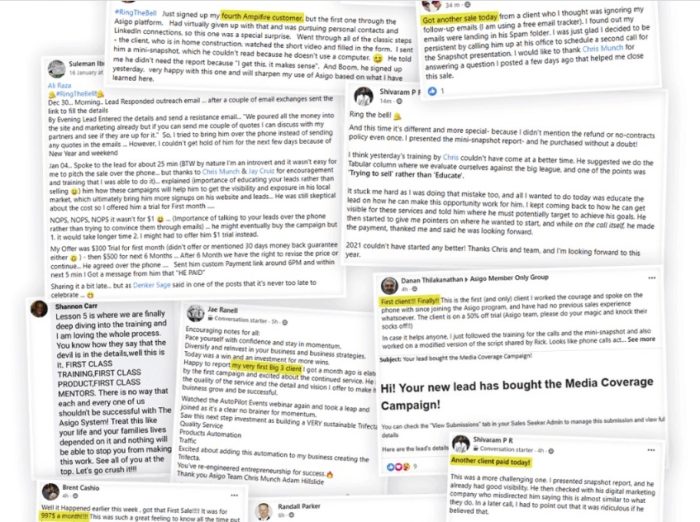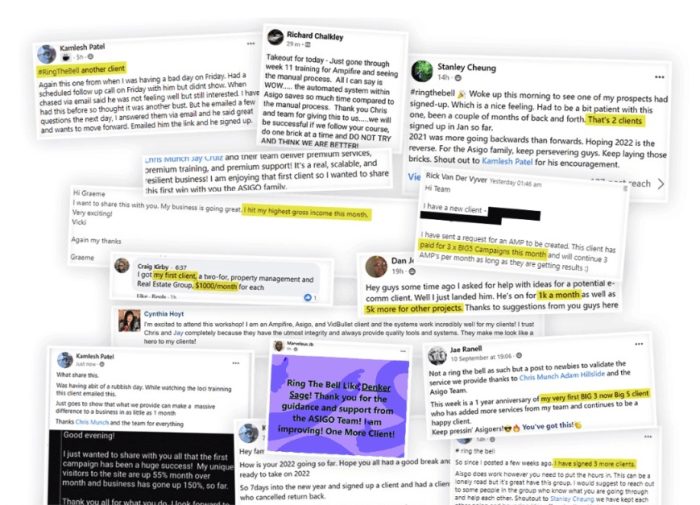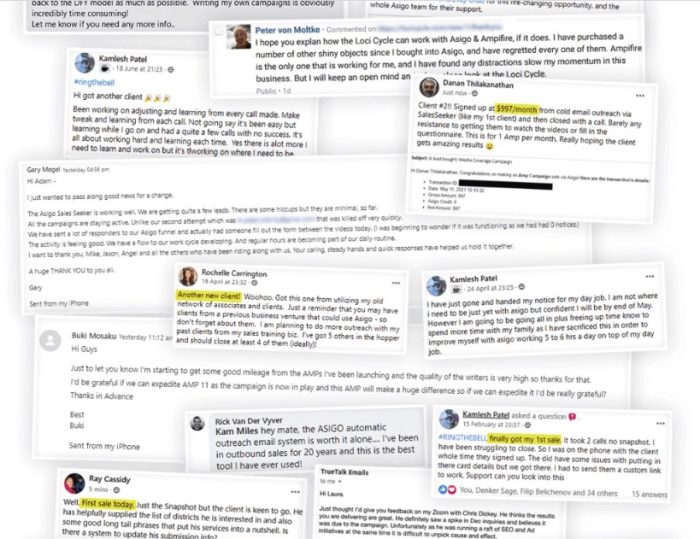 Do not risk missing out! CLICK HERE NOW to watch this -LIMITED TIME- live workshop training now.
I know a lot about this system and have used it successfully for years. I'm happy to answer any questions you might have, just email me: heather@legitebiz.com
Best wishes to you and your endeavor!
Heather
The Expat Entrepreneur
Online business expert with a unique approach to matching people and their resources with the best business model to offer that individual the highest chance of succeeding. She is also a crypto enthusiast and investor and a skilled digital marketer who promotes programs and services that she has personally vetted to her inner circle.
The links on this page may be affiliate links which means if you click them I may receive a commission for referring you to a product or service – at no extra cost to you. All recommendations made are on products and services that have been personally vetted by me so you can be sure that anything recommended here is top caliber in its class.
The ASIGO System FAQ
How do I get leads?
You will use the copy & paste, proven model that The ASIGO System has perfected that works in any niche
What eServices will I be selling?
You will start with AMPIFIRE which is the most powerful tool available today to instantly deliver warm leads to any business while boosting their internet presence simultaneously.
You can also add other eServices toy our eStore.
What kind of work will I be doing?
It depends on how you want to approach it but mostly computer work that consists of emailing, some research on particular industries and companies. You may even want to design a logo! The entire business is copy and paste.
How much time will it take?
2 hours/day for 90 days of consistent effort to start, then a few hours (or more) a week to maintain. If you want to grow and scale it is easy to put in more time.
How soon will I start making money?
There are no guarantees and a lot of this depends on how much effort you put in, but past students have started making money as early as the first 2-3 weeks.
Why share this and teach it to other people?
The market is so vast that hundreds and even thousands of people could not reach it all or provide adequate coverage. We want to cast a very wide net as quickly as possible and dominate this space because that can be very lucrative, and we want you to be a part of it!
Do not risk missing out! CLICK HERE NOW to watch this -LIMITED TIME- live workshop training now.
entrepreneurship
female entrepreneurs
online business ideas
online marketing