Chiyoda Shrine Walk
27 Jul 2021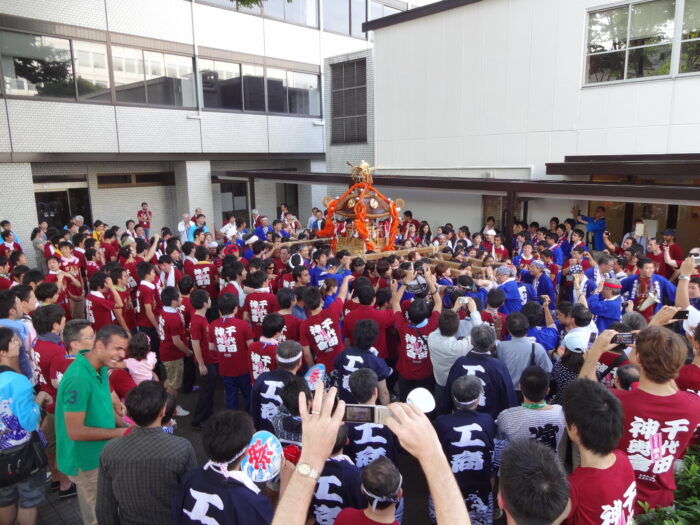 Among the many fascinating traditions in Japanese culture is one us Westerners call 'The Shrine Walk'. One time per year many corporations will get their Shrine out and walk it around the neighborhood, or should I say 'rock' it around the neighborhood! It is proudly carried by teams of employees who get time off work with pay in order to attend the event. A company like Chiyoda literally has thousands of employees so obviously only a small fraction of them will take part in the neighborhood walk-about.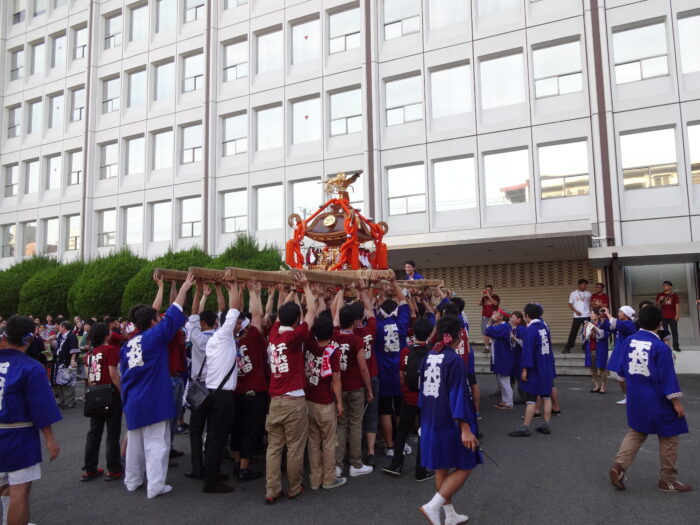 We did notice however that the number of people attending this event increased exponentially for the evening of all you can eat & drink, compliments of the company! The variety of both was impressive and truly enjoyed by all. In addition to a substantial buffet of food and libations, there were several games for the kids, karaoke, live entertainment and of course the Kirin beer girls presiding over the festivities!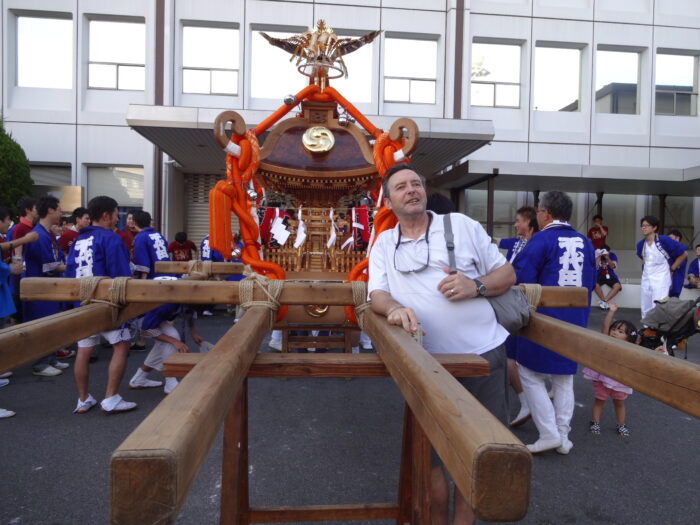 Back to the 'rock-about'… For this event, the Shrine is taken out of its usual resting place and carried through the narrow streets on top of a large wooden frame, which is hoisted up on the shoulders of strong and brave men & women! The frame is carried by approximately 50 people at any given time and is estimated to weigh over 1,000 pounds! There is no procedure for stepping in and out of the 'carrying crowd', people simply step into any void, and step away from the mass when they need a break from all the pushing and pulling.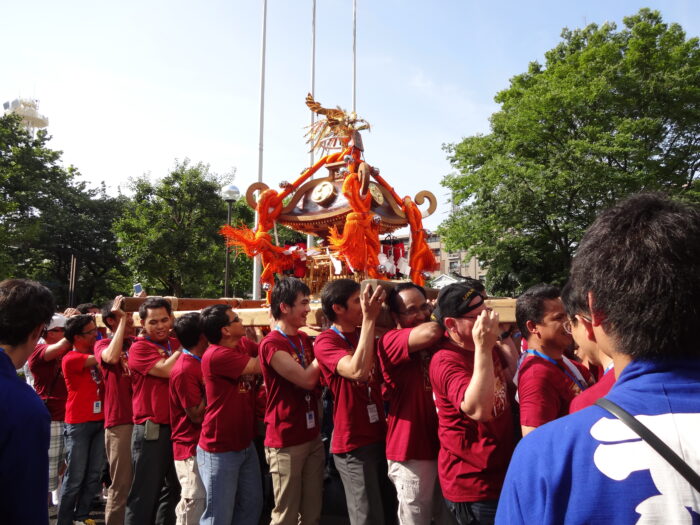 This is where the rocking comes in because the heavy frame is heaved up and down, rocking it around like a raft on a choppy ocean of waves. It's as if they are told to try a knock the Shrine off the frame! I think some of yelling are actually cries of agony from the crushing weight!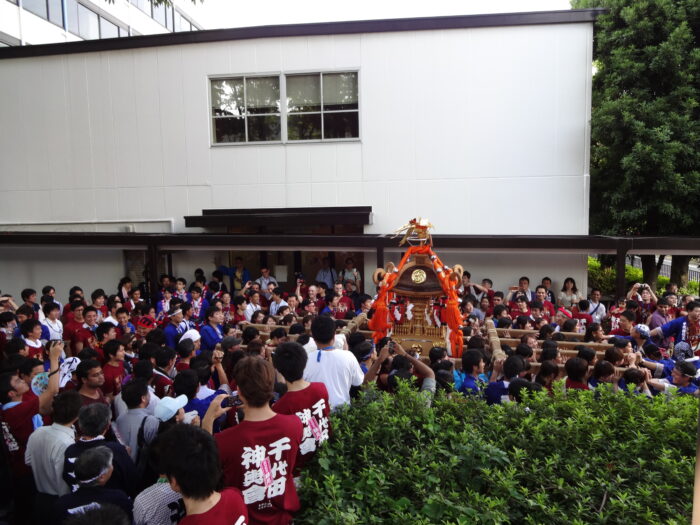 The leader of this small parade is the drummer who sets the pace as he is rolled through the streets and is closely followed by the rest of the band. This loud, bustling display crashing through its own community streets is meant to bestow another year of blessings of good fortune and prosperity on the company, and presumably the people carrying the load! I like to think it applies to all the good folks in the Chiyoda family and I'm sure it does. ; )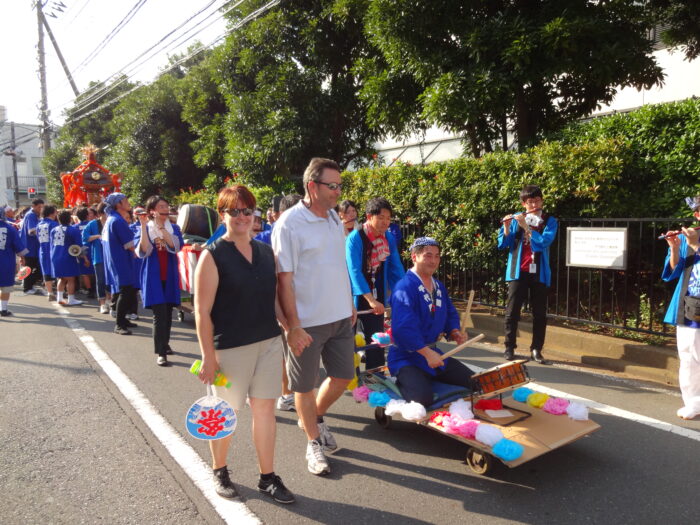 As would be expected, the several hour long walk is interrupted by a few much needed refreshment breaks. I've seen a lot of beer drinking on hot days, but I have never seen so many cases of beer seemingly vaporize so quickly as on this super-hot day. The full sun beat down on us the entire time with temps reaching 40c and 70% humidity! Very hot, very sticky. Boy or boy the people were happy and everyone sweated right through their clothes. Finally, proof that Japanese people do sweat!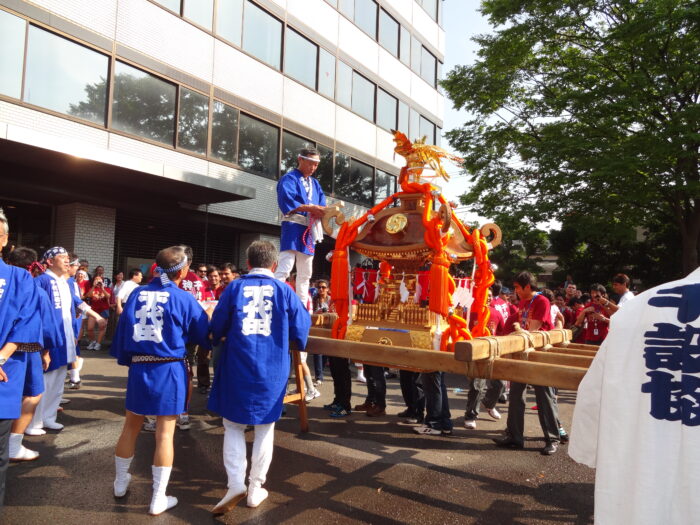 The Shrine is not unlike many others we have seen first hand throughout Asia. It is not actually all that big but is very impressive is an ostentatious way, which I guess is exactly the point! The frame is equally impressive and is very simple in design.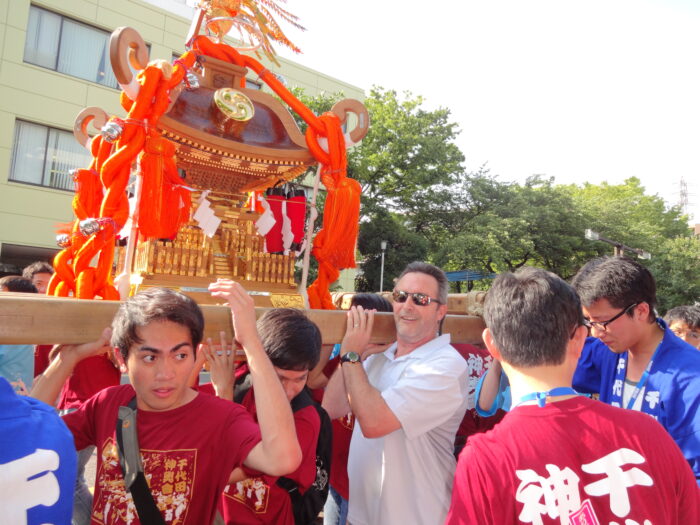 In this event, is does not pay to be tall which I clearly saw on Mark's face when he stepped in to bounce it around for a while. The pictures don't tell the whole story because I also noticed the people on either side of him looking quite impressed with themselves in what must have felt like a 2nd wind when their load was greatly lightened! Too funny!
It was a very enjoyable day and we look forward to participating again next year. Hopefully we will get registered early enough to get a team shirt this time!
Bye for now.
Originally July 2012
living in Japan
shrine walk