Dan Hollings (The Plan) Reveals His 5 Biggest Secrets For Crypto Investing in 2022
8 May 2022
When Dan Hollings cracked the crypto code, his friends and associates convinced him to create a course so others could benefit and profit from this knowledge, so he did and it's called The Plan. These are his TOP-5 secrets for how to be successful with cryptocurrency investing in 2022.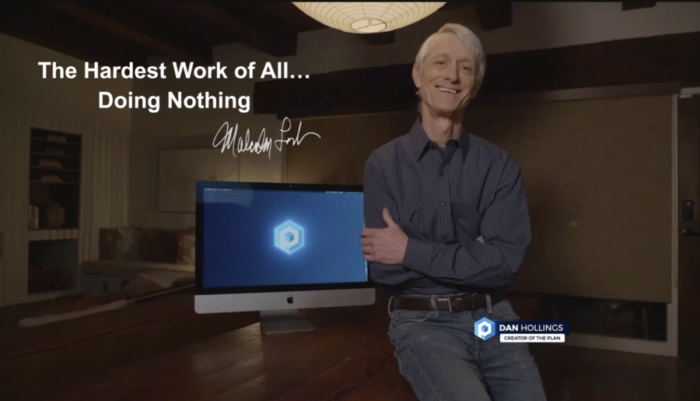 Most people who know of Dan Hollings and his teachings in The Plan know this phrase extremely well:
"The hardest work of all…doing nothing." Here it was quoted by Malcolm Forbes however similar quotes have been made by many others along the way.
Pretty much any Plan member will agree that sitting back and doing nothing IS hard and it takes a lot more fortitude than learning a crypto trading course, figuring out which is the best crypto trading platform, and getting started with crypto trading bots, especially in the 2022 market so far!
The crypto market in 2022 has been challenging and there are some investors who think that once they get through this crash it will be clear sailing as if this is an unusual event that needs to be gotten through. Well, it certainly does need to be endured however similar and less severe ups and downs will continue in the crypto market (probably forever) making these 5 secrets even more vital.
---
Cryptocurrency Investing
How To Invest In Crypto
Secret #1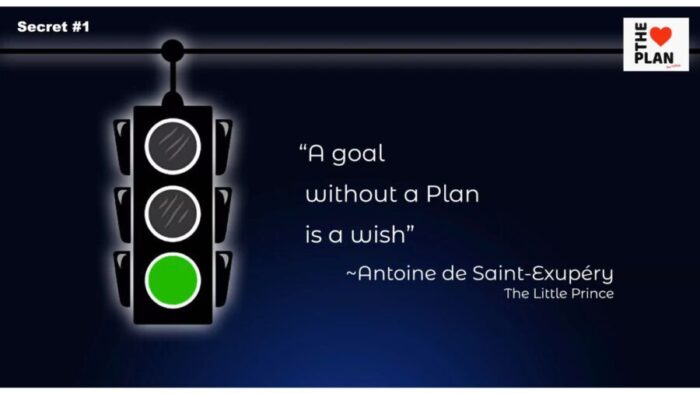 Dan says "It's almost like gambling…"
If you decide to invest in crypto (or any investment for that matter) you need to have a plan because you will make bad decisions without one.
There are so many analogies to drive this point home but none is better than the boat without a rutter. Having a solid plan for investing is just as vital as that rutter and if you go forward without either there is no telling where you will end up – especially when a storm is blowing in.
When things get stormy and you get nervous, and all the headlines are driving the FUD (fear, uncertainty, and doubt) you are going to question yourself and be tempted to stray off course.
That's why you need a strong plan to get you through the peaks and valleys that lay ahead – especially in crypto!
---
How To Invest In Crypto
Secret #2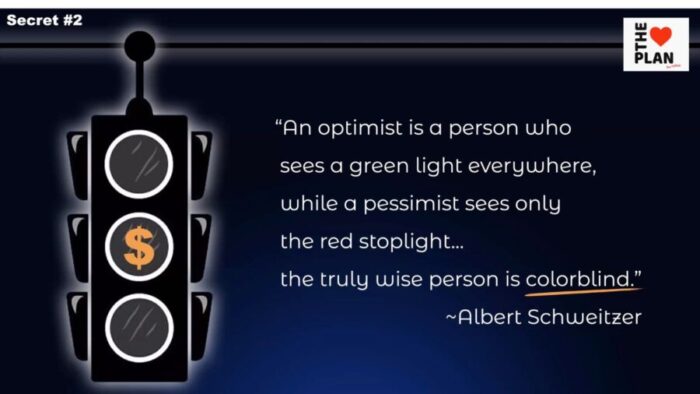 About the optomist, Dan Hollings says "That's the person who goes to Youtube, and every single guru they see is a green light!"
He also refers to this as "strategy hopping" and that doesn't work. Especially when 1 person is saying go with this coin, and someone else is talking about NFTs, and another one is on to liquidity pools……
I call it shiny object syndrome and the problem with it is that almost everything needs time to incubate and if you're constantly chasing down the next best thing NOTHING will ever get seen through to the end. It's a fast track to nowhere and this trap will keep you running in circles as long as you stay on it.
"Next is the pessimist who only sees red stoplights, That's the person who just keeps reading the FUD that's being pushed out into the media and they don't ever stop because they're scared to death." says Dan
Dan goes on to say "The truly wise person is colorblind. When you're in crypto you need to become colorblind and just continue to follow The Plan."
The truth about crypto bot trading (which is what The Plan teaches beginners to do) is that sometimes you will be up, and sometimes you will be down, and not enough emphasis is placed on the times when the passive income is on hold (like now) which is enviable and expected.
---
How To Invest In Crypto
Secret #3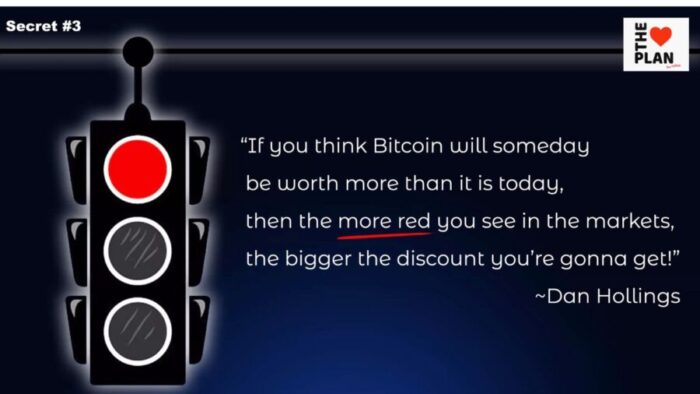 When talking about the current state of the crypto market (early May 2022 which is 6+ months into a pretty deep crash Dan says that there is a lot of red in the market right now "and that's a good thing." (you can see his full webinar training here)
Dan also says "Because that means if you are smart. If you're colorblind. If you've got a plan, then you're going to get the biggest discount that anybody could possibly imagine and this thing has a strong likelihood of doing quite well for you."
This is based on the assumption that you get a plan for yourself of course, because if you don't know that next Bitcoin halving is coming (a rare opportunity to generate a lot of wealth fast) or how to profit from it YOU'LL MISS OUT!
The 16,000+ members of The Plan are already preparing for this event, they know what to do and have the confidence to take action. Imagine how priceless that is!
The Official Review Of The Plan By Dan Hollings can be found here.
---
How To Invest In Crypto
Secret #4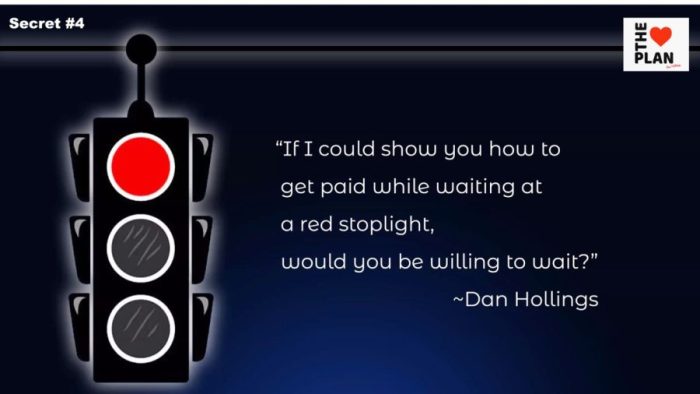 "I think the #1 skill set that you have to have in crypto, is patience," says Dan.
Dan goes on to say "Isn't it easier to be patient if you're being paid while you wait? Everybody else (the market timers) is freaking out, they're not getting paid. They're waiting or they are selling at a loss and we are sitting here and getting paid while we wait."
This is because pretty much everyone who invests in crypto believes that Bitcoin will go up (a lot). So when you utilize the crypto bot trading strategy (what The Plan teaches) you get paid in wiggle profits while you wait for Bitcoin to go up.
That is a HUGE edge.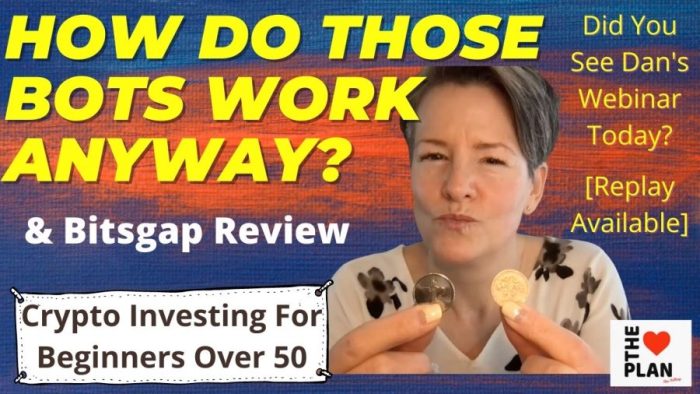 (Learn about crypto bot trading here:
What you are being paid while you wait can also be a significant amount of money (profit) that you can spend today not at some unknown time in the future. THAT is the real magic of The Plan!
---
How To Invest In Crypto
Secret #5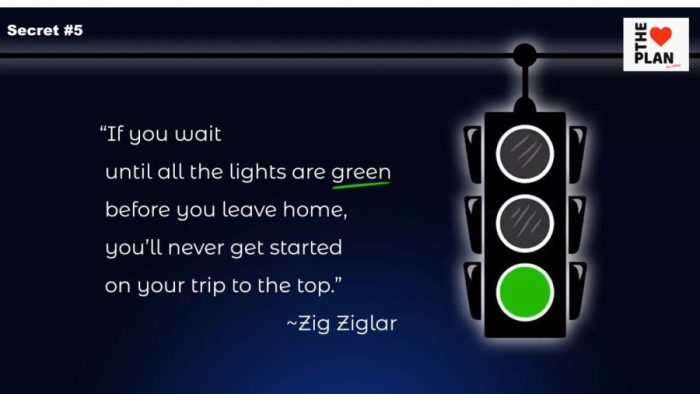 Dan mentions that this quote by Zig Ziggler helped direct his life for many decades and that he considers himself fortunate to have first heard it when he was just a young man.
Another excellent grouping of words to live by is from Jason Fladlien who happens to be the publisher and marketing genius behind The Plan. Jason says that "Done beats perfect." which is equally true.
In the same way that, if we wait for all the lights to be green before heading out to do the thing we want to do, refusing to "finish" a thing before it's deemed perfect can also keep you locked up in progress-prevention-purgatory and leave you wondering why you're constantly missing out.
Now you can finally stop wondering because you know the price for waiting for all the lights to be green is significantly higher AND a large part of the opportunity has already been missed.
Dan says "… what's happening with a lot of people who are thinking about crypto, they keep waiting for all the lights to be green so they can jump in. That's not going to happen. In fact, now you know the secret: it's when all the lights are red, yeah red! That's the best time to get going.
It's after a few of the lights are green when the FOMO kicks in (the fear of missing out) and if you wait until then to jump in, prices are a lot high and all the discounts are gone! That's not the way you make money.
Dan says "The way you make money is by jumping in when all the lights are red."
In closing, as I write it is early May 2022 and the crypto market is flailing around a new 6-month low that has produced a sea of red, and a massive buying discount for any new capital coming into the market.
If you have any doubts about the longevity of Bitcoin and cryptocurrency in general have a look at this recent news story on CNBC.
The future is here and right now you are hearing the sounds of opportunity knocking on your front door. Sometime soon, this opportunity will be gone, the knocking will stop and will be replaced with the faint whisper of regret. (Don't let it be yours.)
You can learn more about how to invest in cryptocurrency here.
Heather
The Expat Entrepreneur
Online business expert with a unique approach to matching people and their resources with the best business model to offer that individual the highest chance of succeeding. She is also a crypto enthusiast and investor and a skilled digital marketer who promotes programs and services that she has personally vetted to her inner circle.
DISCLAIMER: The information provided on this channel does not constitute investment advice, financial advice, trading advice, or any other sort of advice and it should not be treated as such. This content is for educational & entertainment purposes only and is the opinion of a third party and this site does not recommend that any specific cryptocurrency should be bought, sold, or held, or that any crypto investment should be made. The Crypto market is a high risk, with high-risk and unproven projects. Readers should do their own research and consult a professional financial advisor before making any investment decisions.
The links on this page may be affiliate links which means if you click them we may receive a commission for referring you to a product or service – at no extra cost to you. All recommendations made are on products and services that have been personally vetted so you can be sure that anything recommended here is top caliber in its class.
crypto investing
how to invest in crypto
The Plan Dan Hollings