Ever Wonder What A Japanese Wedding Is Like?
21 Aug 2021
In a word, spectacular!
This was our first wedding in Japan and as guests, we had a lot to learn. As you might expect, the protocols here are extensive!
It all begins with the preparation of the gift, which is always a money envelope and to be honest, this was a relief because it's clear and decided, but not just any envelope and card will do…. Oh no!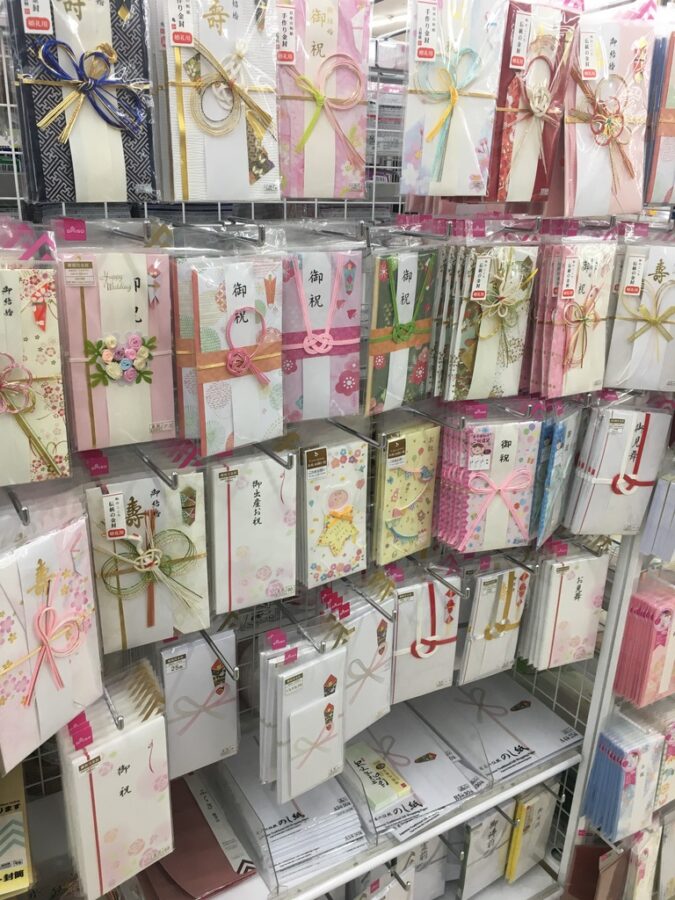 This is a very specific envelope and in Japan, money is given on many occasions so it is really important to you use the right one.
We did not want to be the gaijin who mixed up the condolence envelope for a funeral with the best wishes one for a wedding…..
The cards are beautiful and elaborate and of course, there is a very specific way to do everything!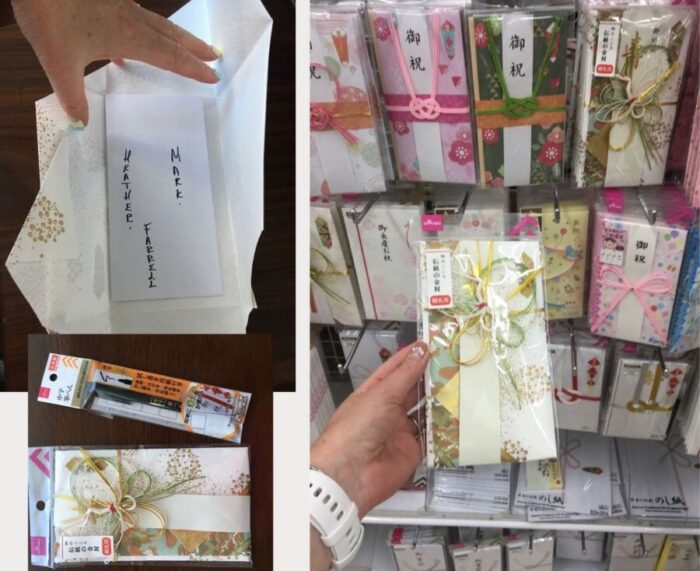 Believe it or not, there is a particular type of pen you must use to write your name on the inner sleeve that will contain the money. The bills must be brand new from the bank and all be facing the correct direction inside the sleeve.
The outer card gets folded around the money sleeve, each of the four sides in a specific order and then the pre-tied knot or bow is slid over the card preventing it from opening, or anything from falling out. It's beautiful and it has been engineered perfectly ;)))
---
The groom; Saori-san, is very nice young man that Mark works with and he was kind enough to provide English translations for us on the many pieces that made up the invitation……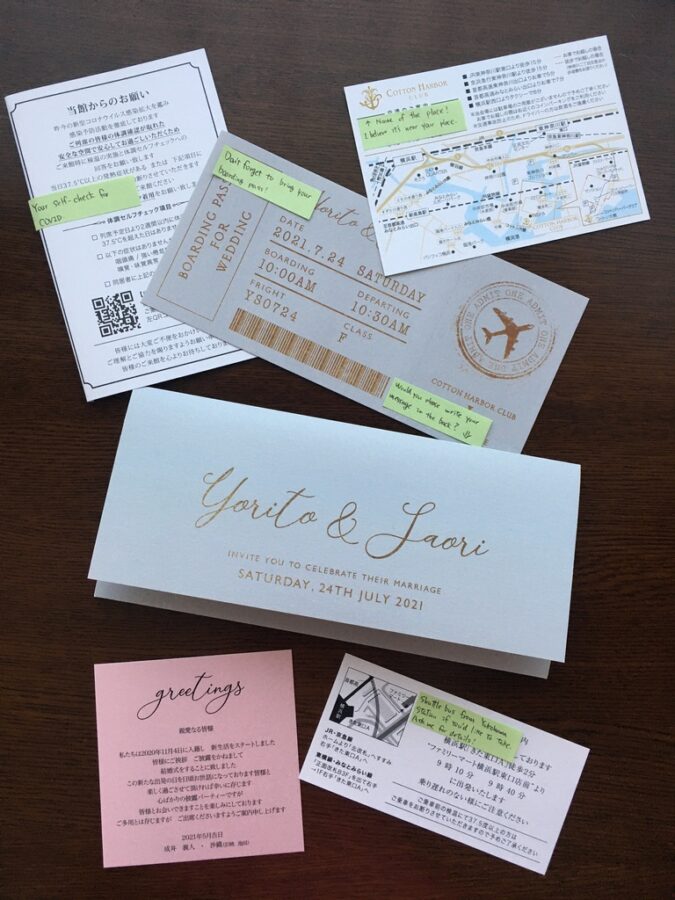 The stunning bride, Yorito-san is a flight attendant and they love to travel, so the theme of the wedding was "Take Me Off" which was unique and fun.
Here in Japan, there are many beautiful places that are purpose-built for weddings. Today we had the pleasure of going to the Cotton Harbor Club (a facility for multiple purposes) which is adjacent to the yacht club, making for a spectacular setting.
There was a large receiving room on the main level where we all waited patiently! This was the time to present the gift envelope and something else everyone was asked to bring!
We had no idea why, but we were asked to bring a paper airplane and to write our names on it. The day before, Mark was busy honing his paper airplane skills which were not too rusty considering how many decades they likely laid dormant.
When we first arrived at the club we found many people were comparing airplanes and guessing which one will be the truest flyer ;))) Imagine our surprise when Mark revealed his aero-dynamic masterpiece which was made from a full sheet of paper, producing an 11″ long gliding beauty that was an absolute behemoth beside all the others that were 1/3 the size! Clearly, we missed that memo….. All the paper airplanes and envelopes were handed over and we would soon make our way upstairs to the ceremony hall.
We were asked to gather around and watch a short video of the couple, giving us a glimpse into their world during their courtship as they fell deeper in love with each other.
Once it was finished we all handed a small piece of paper (to make a 2nd airplane with) and we made our way up to the 3rd floor to the ceremony hall. This transition was done in true Japanese style! Where else in the world would 95% of the people merrily walk up 3 flights of stairs without breaking a sweat or barely skipping a breath…?
There was one small elevator and by the time the select few were whisked to the top floor nearly everyone on foot was already there. Chop chop!!!
The ceremony was lovely and the groom was waiting up at the front of a beautiful room before the doors were opened to the guests. We all quickly funneled in like grain falling through a siphon, careful not to step one toe on the center carpet that is reserved exclusively for the bride & groom.
When the door finally opened to reveal the bride, whose parents were on either arm, they greeted us with smiles followed quickly by a traditional Japanese bow and that's when the reality of being thousands of miles away from our home and culture suddenly washed over me. (Yes, that means I teared up, and this would not be the only time LOL).
She was absolutely stunning.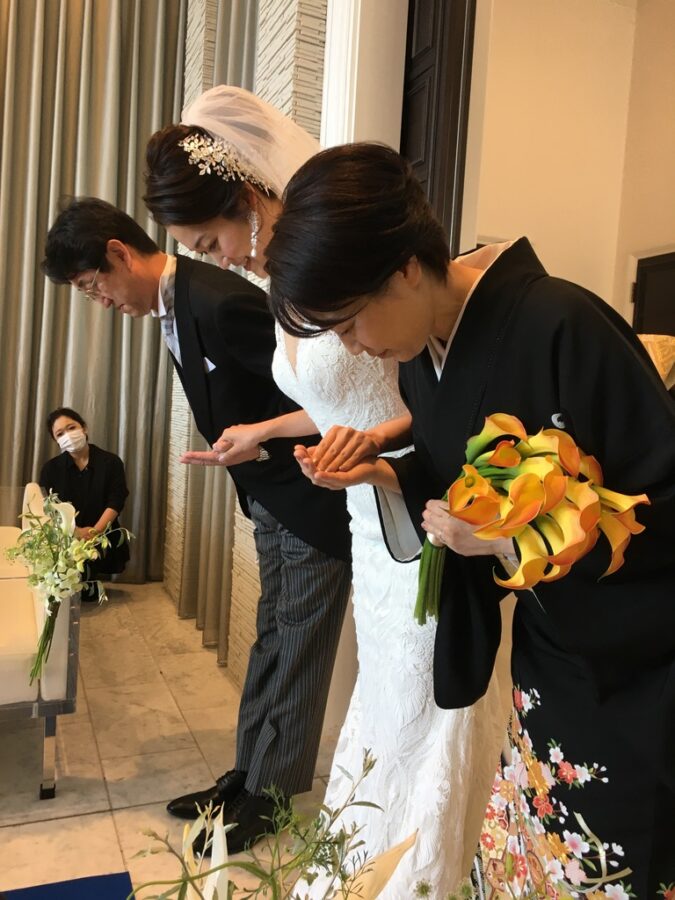 They remained at the entrance for quite a long time. Her father spoke, her mother spoke (more tears), and she spoke. Even though we don't speak Japanese, the energy was truly palpable and the joy and hope that all loved ones feel for young people who are about to begin their new life together flooded into the room, and right into my heart as well.
When it was time she kneeled before her mother who pulled the veil over her face, and then she let her daughter go to be escorted down the aisle by her tall dashing father.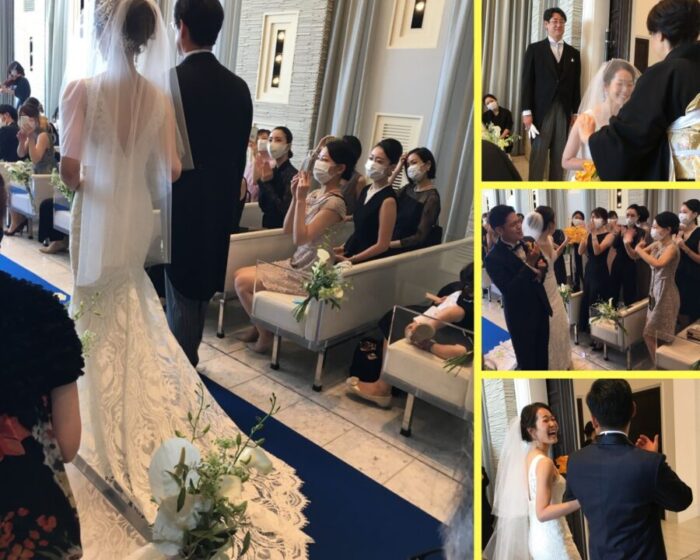 Once the bride was escorted to the front, the groom addressed the room, and then his mother spoke for a few minutes as well.
There was not a minister or clergyman to officiate. Instead, the bride and groom addressed their guests with stories and another cool video that seemed to document their relationship to this point. This will surely add a special layer of depth to the memories of this special day to look back on in the years to come.
They both recited vows to one another which were translated and handwritten for us (such a nice touch).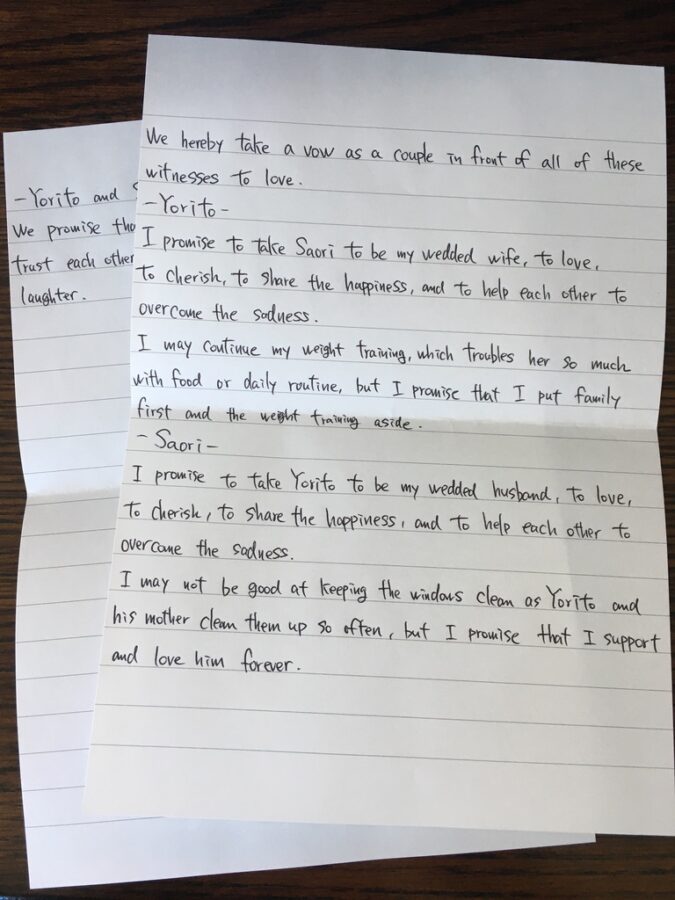 At some point, she did kneel down in front of him so he could pull back the veil and reveal her beautiful beaming face.
It turns out they had already performed their official Buddist ceremony sometime earlier at one of the gorgeous local temples nearby.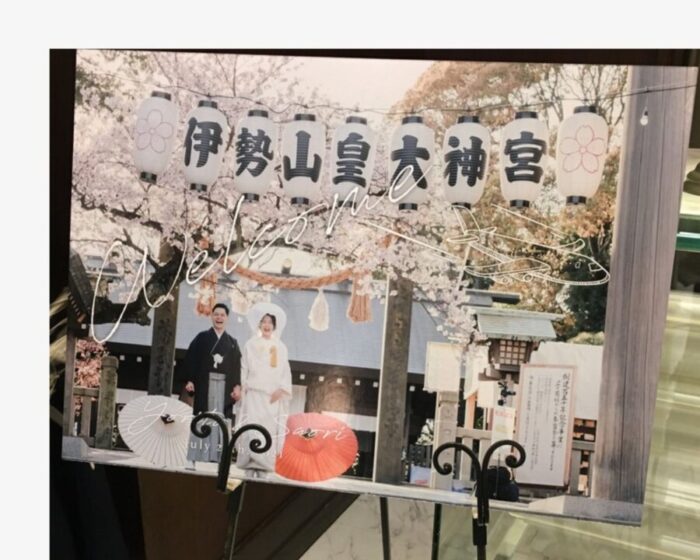 When this ceremony was finished they slowly walked back down the aisle and all the guests sailed their second little paper airplanes toward them rather than throwing confetti. A cool idea in keeping with the theme of this wedding.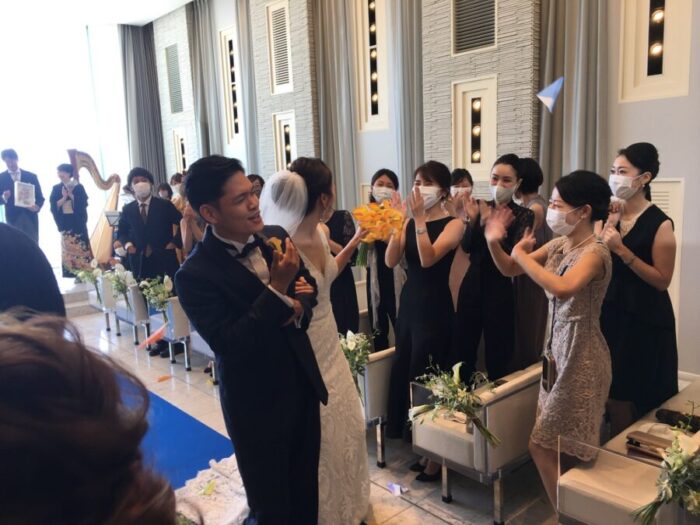 Once outside the room, they turned to face all of us as the doors began to close in front of them while they bowed to us, arm in arm.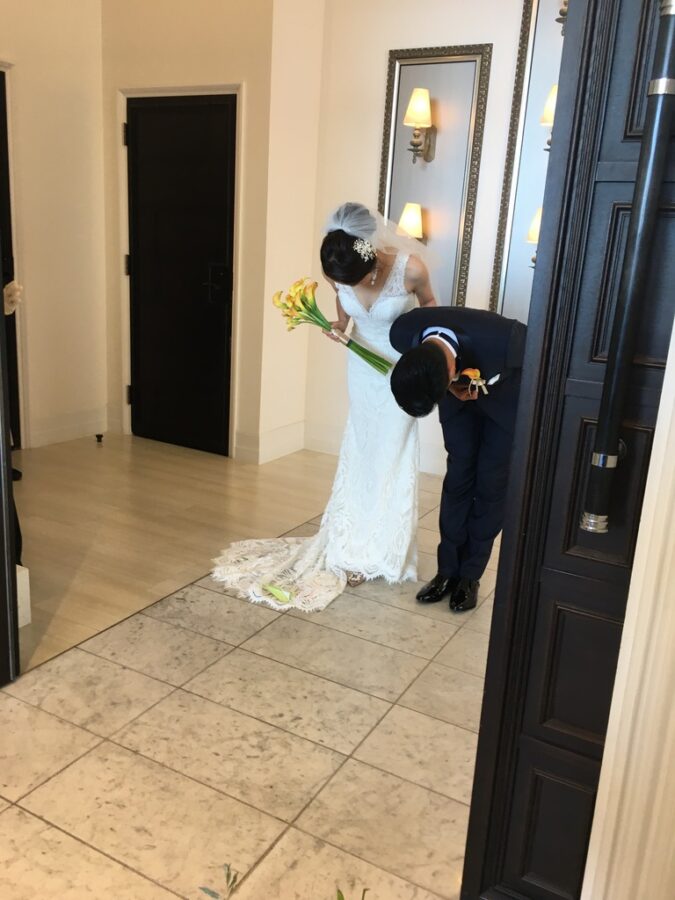 This was such a beautiful day and the next order of events had us all heading back downstairs to go outside to a spacious outdoor patio for a refreshment. Due to covid restrictions at the time, no alcohol was allowed to be served and despite the fact that the wedding started at around 10:30 am, that would not stop the Japanese (or gaijin) from tipping one back at a celebration such as this.
We were soon asked to form a circle and I remember thinking how lucky I was to have my back to the sun. I am a shade seeker at the best of times, plus it was hot out there! I knew we would not be out there long because there was not one umbrella insight and this was probably the most direct sunshine these Japanese women ever had on their skin in one dose! They are so clever and have many unique ways to prevent the sun from touching their skin for very long.
Then they appeared on the second story and made their way down the outdoor staircase into the center of their circle of family and friends which we were privileged to be part of. The count down began to the moment when we were all meant to toss the handful of flower petals we were given earlier onto the newlyweds. This made for a lovely picture even with their backs to us.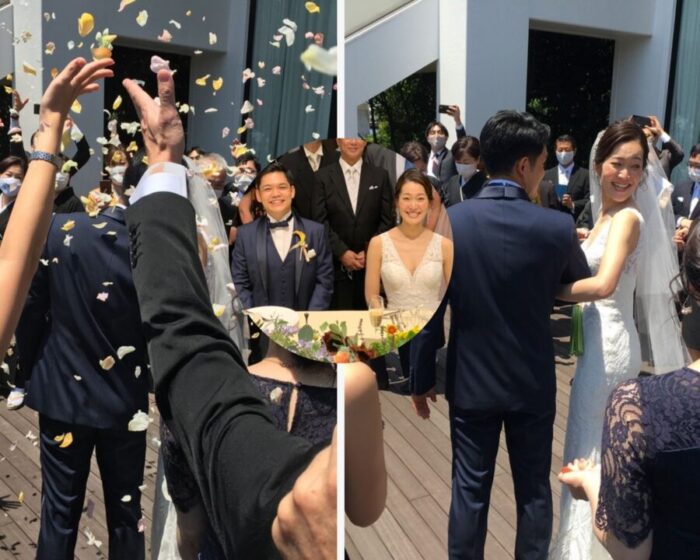 The moment the doors opened to the hall we all shuffled inside and out of the sun like a practiced ensemble!
The banquette hall, where we would spend the remainder of our time, was a lovely grand room with 2-story high ceilings and a wall of windows. It was so bright in fact, that they had to pull the light-blocking curtains to keep us shielded.
What followed was a multi-course bounty of delicious, perfectly prepared Japanese delights. Even the ginger ale is special here and made fresh with actual ginger right on the spot. Sorry Canada Dry, you pale in comparison LOL!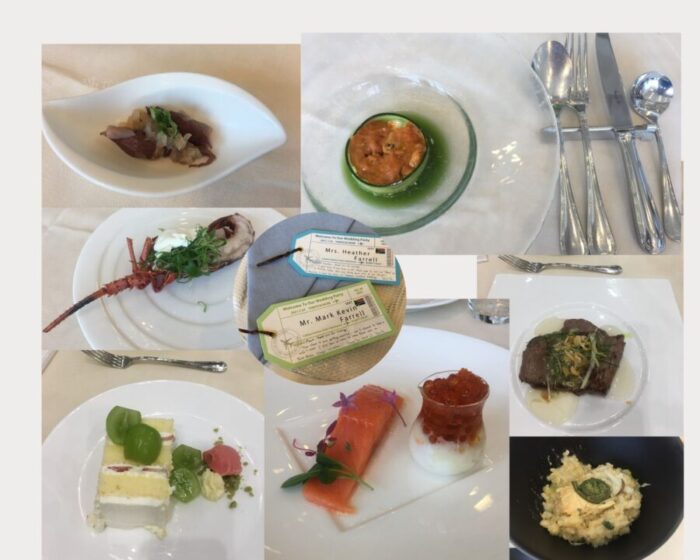 Many things would continue to happen while one delectable dish after another would be brought out to us, but first, we were all treated to the unveiling of a special song written and sung (acapella!!!) by an important superior from the groom's employer.
I'm not sure if Chiyoda employees were in higher attendance than the flight crew from All Nippon Airways (ANA) where many of the bride's beautiful friends hailed from.
As we were distracted by the yummy food the bride and groom disappeared and upon their return, she was wearing a gorgeous ballroom gown and he was in a fresh suit.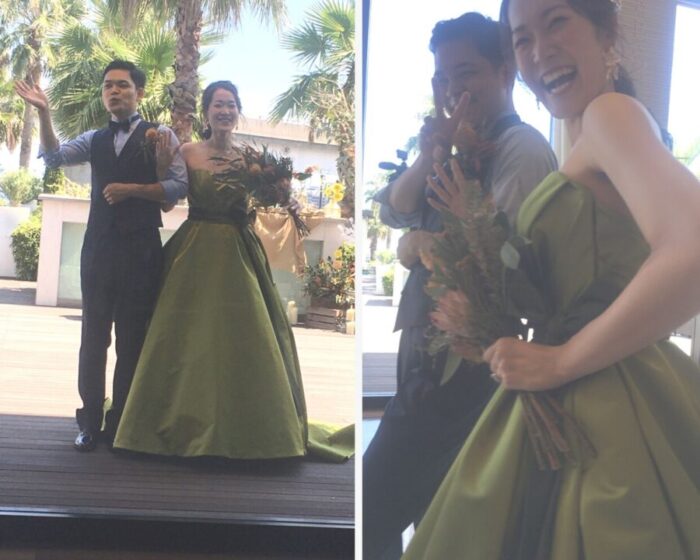 They made another grand entrance from the outdoor patio area when a song suddenly began playing (Shut Up And Dance With Me by Walk The Moon) and the heavy curtains were pulled open to reveal the bride and groom locked arm in arm, on the other side of the glass window dancing and bee-bopping to the song and waving to us inside.
When they entered the room, they rightly paraded the long way around, past as many tables as they could and I managed to snap a shot of those beaming smiles after fumbling for my phone.
The precession of gourmet delights continued as people began to make their way to the small head table where only the bride & groom sit to offer their thanks and congratulations.
At the same time, the bride's parents and the groom's mother visited every table of guests and thanked them for sharing this day and for the role they played in the lives of their son and daughter.
It was elegant and classy, and even as outsiders we very much appreciated the rich traditions, the extra efforts, the small yet impactful details, and the generous, loving spirit that permeated the entire event.
One of my favorite parts was when it was time for the groom's grandma (O bachan) to play her role! She sprung up out of her chair and dashed over to their table to perform a rice-ball (onigiri) making ceremony with the bride. It must be grandma's job to make sure the new wife knows how to make a proper rice-ball, even though she probably learned that skill before she could even walk!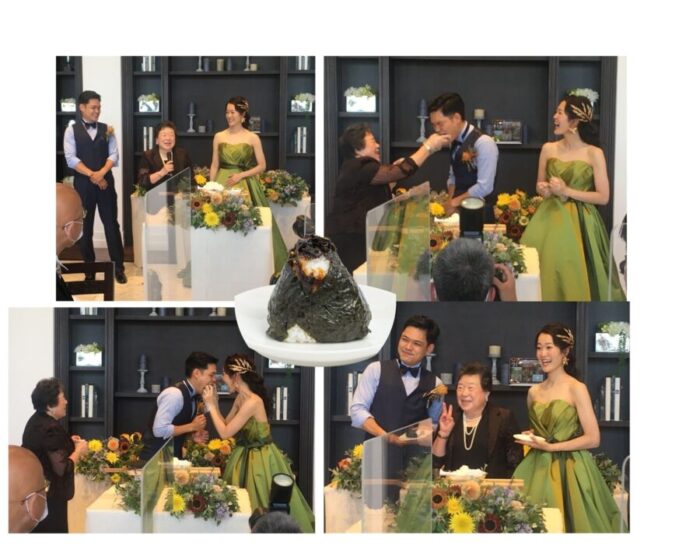 Once made, Saori-san must take a bite from grandma's onigiri, and then from Yorito's onigiri. Both were met with solid praise and head-nodding smiles as he quickly swallowed them down. What a nice touch that was!
As the final dish was being served were once again treated to another video but this time we were all showcased as the short video flashed over the events of the past 4 odd hours of which we were all included. Even in this short period of time, I caught myself thinking "oh yeah!" several times after such a robust experience with so many surprises and delights!
Shortly after the bride and groom once again circled the room and vanished out into the receiving area. This time it would be to greet each guest upon their departure to thank them personally and give each of us a yummy canned drink from the bride's hometown.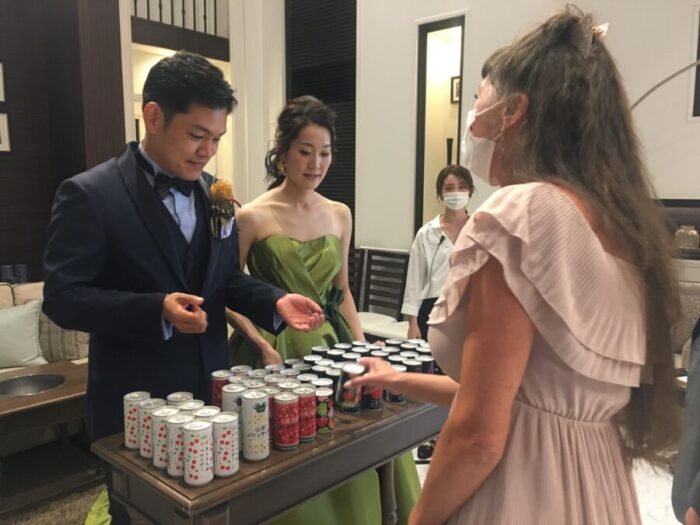 Another unique tradition that occurs at Japanese weddings is the gift bag that each party receives as a memento for attending and being an important person in their life. This was definitely a first for us and to be honest, we were like little kids who couldn't wait to get home and see what was inside!
How cool is this – our gift bag included:
-Yummy chocolate and vanilla gourmet cookies.
-Our own personal onigiri making kit with all the ingredients in a triangle-shaped box which is in fact the proper shape of a rice ball!
-An e-gift that we select personally from a high-end gift catalog that looks like a commemorative edition publication….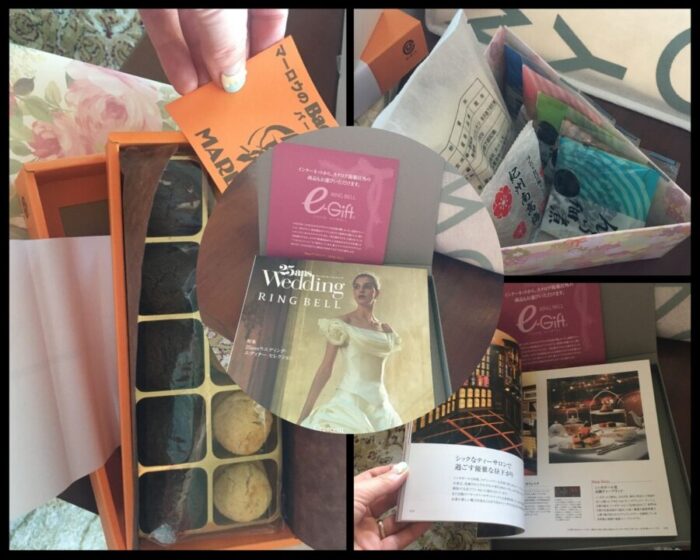 Wow! I came out of this wedding feeling totally pampered and as though I was a truly honored guest. Their wedding celebration was spectacular and we were both honored to be part of it!
OH! As for that 'original' paper airplane everyone made…… they were ALL framed and on display when we left, a treasured keepsake & memory! xx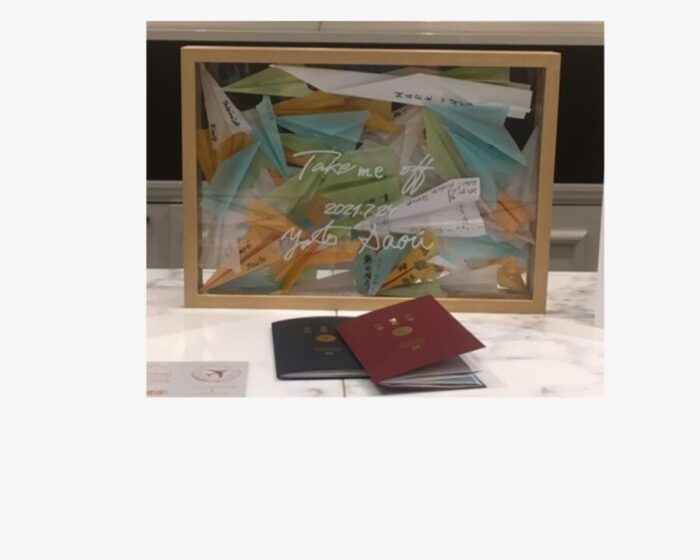 If you enjoyed this story, you may also like these ones:
My First Cherry Blossom Season

Kamakura – The Great Buddha, 769 Years Old & Counting

Sake Hike North Of Japan
Japanese weddings
living in Japan