Shonan International Marathon
28 Jul 2021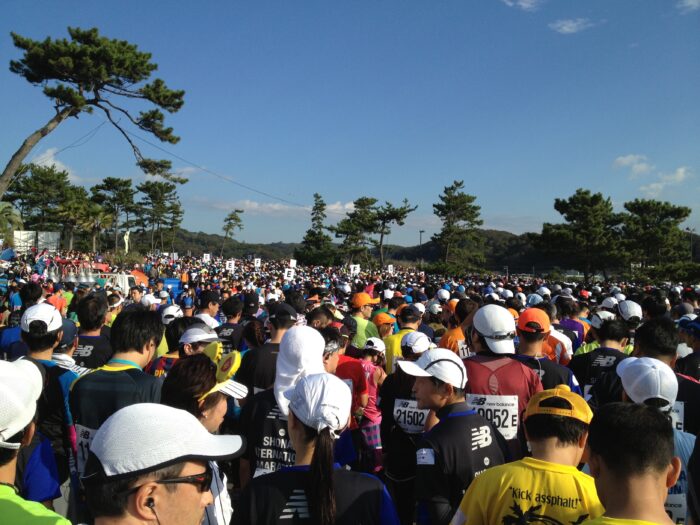 This time last year we ran the 10km segment of the Shonan International Marathon here in Japan.For me that was my 3rd official running event, all of which were 10kms.I remember how nervous I was to be running that particular race because it seemed much more official than the previous two with crowds of well over 23,000 people, most of whom were there to run the full marathon.So it was a bit surreal to be back a year later mixed into the mass of people, and be there to take part in the main event.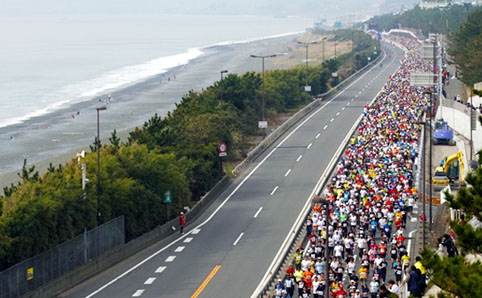 Looking back, it has been a big year for us where running events are concerned. We did a ½ marathon in Ras Al Khamia, UAE in February, and another one in Edmonton, Alberta in August and it was somewhere in the middle of the two that we decided to go for it and run the full distance here in Japan this November!
Let's rewind this day a wee bit….
Our race was set to start at 9am so our day started super early with the alarm going off at 04:00. We were out the door at 05:30 to meet our friends; Cat & Darren, who were also running the marathon and joining us on the bus coach from Yokohama to the Oiso Prince Hotel. For those who have not had the pleasure of experiencing Japan first-hand, and what we all refer to as "Japanese efficiency", allow me to explain. More than 23,000 people had to get to and from this event, which even for here is almost too many for the trains to handle on a short time frame, although this would still be the main mode of transport for the majority of people.
Not wanting to contend with the intense crowds and the logistics of getting to and from the train station and event site, we opted to buy a bus ticket from a tour company who organized 1 way transport from Yokohama, Tokyo and a few other large cities to the race location and it was seamless! With our printed (in Japanese) ticket voucher in hand we queued on the sidewalk, 4 across and 15+ rows deep to match the seating configuration on the bus. When one bus was filled to capacity we were immediately directed to the next bus that was queued and ready. There was virtually no waiting by anyone. Sounds simple but when you have hundreds of people lingering on a city sidewalk waiting to get on several dozen busses inside of 20-30 minutes it is impressive to see it unfold like clockwork. Pulling into the parking lot was also a lesson in precision with about 6-8 busses pulling in to empty the people out while the next busses arrived along with many other cars, each being directed by traffic police. Once the doors opened the people politely exited the bus and carried on.
The amenities for the event spanned the entire hotel site.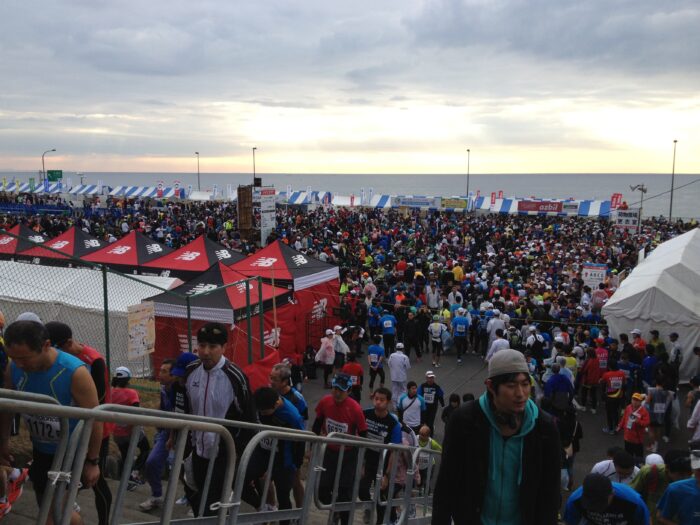 There were an abundance of porta-potties set up with lines that to flow quite fast, except for the ones where the busses dropped us off which wasn't a welcome sight as we disembarked!!! I would soon realize that was the least of the discomfort I would be feeling for the day! There was a lot of gear for sale in booths dotted around the site along with food stations, bag drop areas and people offering massages afterwards, all buzzing with tens of thousands of people.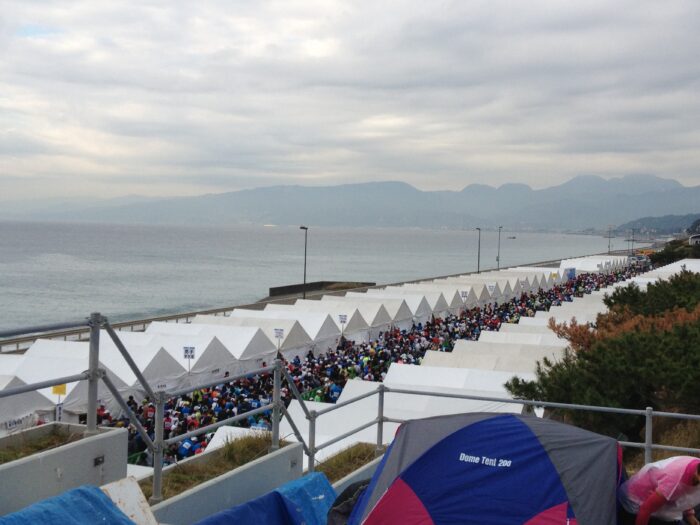 The event took place South of Yokohama along Sagami Bay which was only visible for a short time as the route passed along the coast line.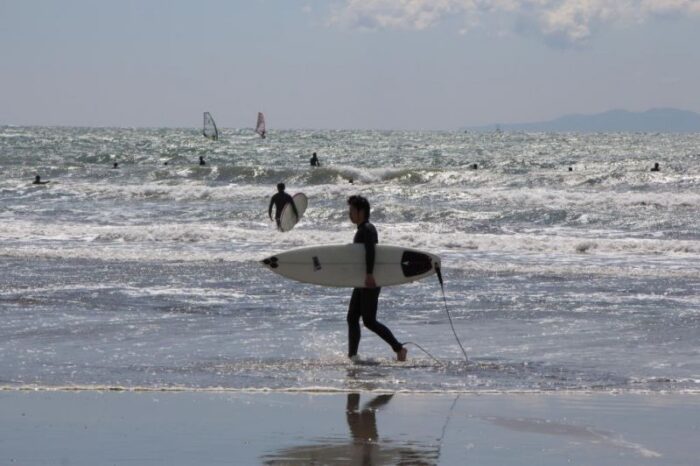 The beach here is called the Shonan Beach and it is covered in dense, black sand that is common to areas with volcanic activity. This is a very popular fishing and surfing spot where many people can be seen walking or biking barefoot in a full wetsuit carrying a surf board heading for the ocean. Each glimpse of the shoreline revealed groups of people in hip waders, standing in the frothy surf with their fishing rods cast out and gear in the sand behind them.
It was somehow a bit reassuring that normal life was carrying on while we were embarking on what I considered to be a monumental task! We had good weather that day which is hit or miss during Typhoon season, so we were lucky. The temp was 16c-18c, mostly overcast, no wind and higher than preferred humidity at about 75%.
There were several events taking place that morning; 2km family fun run, 10km, 10km wheelchair, ½ marathon and of course the full marathon. That's a lot of people to orchestrate on a schedule and we were all ushered through the starting gate within 65 minutes of each other. At the time of registration we were asked to estimate our finish time and this determined our starting position, denoted by a letter on the bid. Three of us were letter "G" which was the last group! Darren was much faster and on his own in the "D" group. Normally this would not be an issue but this event had a time limit which meant we had to pass certain distance marks in specified times or risk being forced on the "bus of shame" to be driven back to the finish line, and they don't hand out medals for that!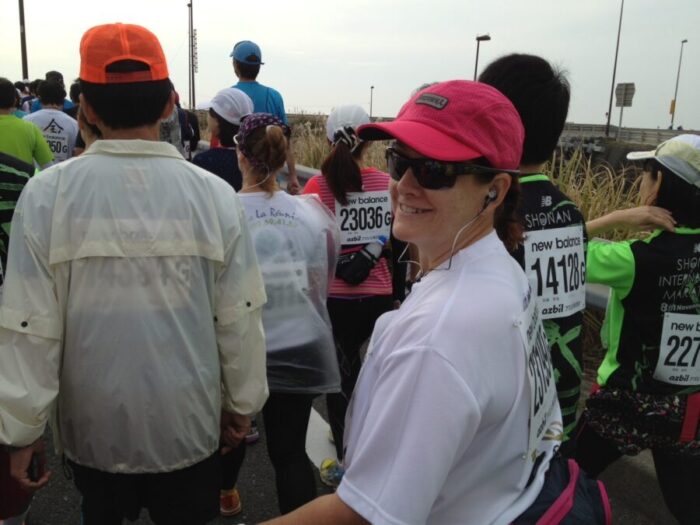 So once the final gun shot went off and the marathon had officially begun, it took us 24:39 to actually shuffle across the starting line meaning we were already about 25 minutes behind for the cut off times (not good news for a slow runner like moi). As we were walking in the mass of people making our way to the start line, the crowd would suddenly break out into applause from time to time as they cheered on the wheelchair 10km-ers who were already on their way back and heading down the home stretch. That choked me up a bit even for the second time as I experienced the same thing last year. I do love to see the human spirit in such fine form!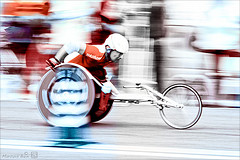 Off we go and by now the gulping down of water 45 minutes earlier to be super hydrated for the start had worked its way far enough through the system to not be sweated out…. Bathroom break. Darn it! There goes another 10 minutes after waiting in line and getting those compression tights back in all the right places! That was actually the least of my concerns because I had a terrible start, middle and finish actually LOL.
Unfortunately I had not done the smart thing and had my exact kit keenly chosen and utilized, instead I opted to wear and use a few new things none of which 'worked'. Darn it! What was I thinking! Now instead of just going through the motions and trying to find my groove, I was busy zipping and unzipping my waist pack which was fully loaded (hadn't tried that before because how different could it be?) with an abundance of energy gels…
No good in front, no good in back, so around and around my waist it went while coming unzipped several times which is only discovered when it is flapping around like crazy and the contents are on the verge of popping out. It finally ended up on the side of my hip but that then prevented my right arm from being where it likes to be, grrrr. Music, no good. Darn it! Skip forward again, again, again. All this fluffing around takes precious energy and attention, keeping my cardio up and spirits down.
Mark was with me (thanks babe) for the first 1/3 of the race when he suggested that we 'up' the pace to give myself some breathing room for these cut off points. I told him he better go if he wants to be sure not to get disqualified, because I knew I could not go any faster at that point.
Thankfully he took my suggestion and blazed on ahead. By now I had seriously questioned whether I thought I could pull this off several times and I was having serious doubts. "What am I doing here?" "I'm not going to make it" "18km? That's it???" Loads of people around me were walking so I decided to walk a bit too, walk – run – walk – run just like in the early days.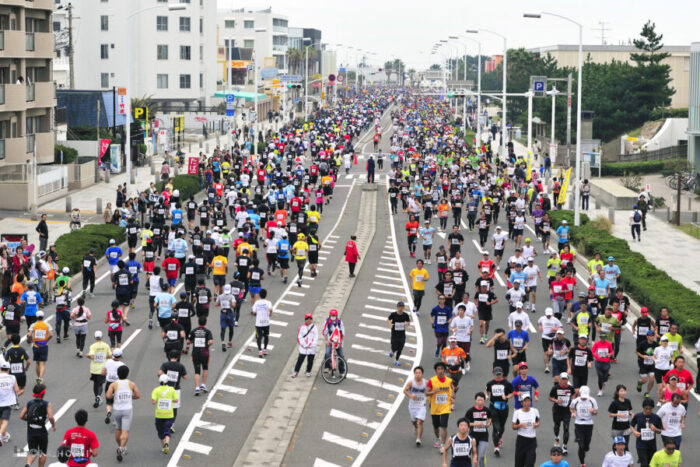 I wave to Mark and Cat who have both made the turn around point and were heading back. Walk – run, fluffing around, can't get into it and I'm now somehow approaching 28km and I notice the people around me are suddenly speeding up for the next water station. I didn't know why until I saw the man with the walkie-talkie about 30' in front of me signal for
the rope to be drawn across the road thereby blocking access. What?
Oh no. Ohhh noooo. ☹ I look back and see dejected faces, one woman is on her knees with a face full of anguish, people crouched over looking down with their hands on their knees, all as if they were in slow motion.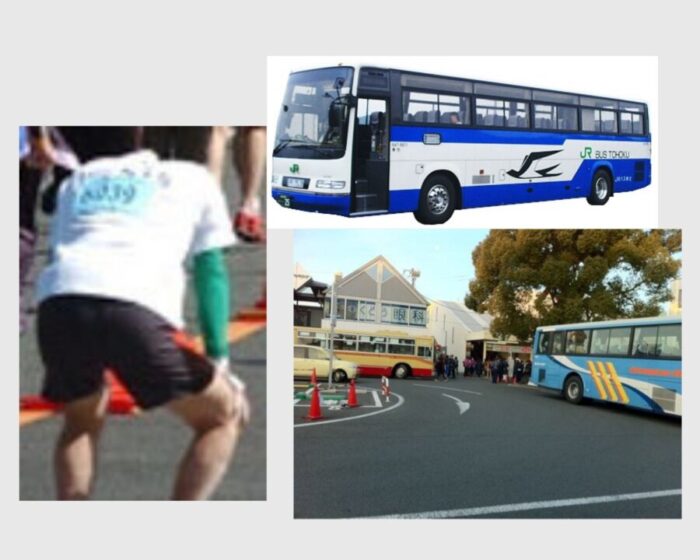 I look to the right and see the infamous 'bus of shame' waiting for us slow pokes to haul our sorry bones on board for the slow ride back to the finish line. Then I spotted the sidewalk which remained open for pedestrians…
Bing bing bing! I sauntered over there and started heading down, I didn't hear anyone calling me back (mind you I did have the tunes cranked) so I picked up the pace and once I passed the water station I hopped over the fence and got back in the group of runners (most of whom were walking) and I took off and didn't stop until I passed the 35km water station where the next cut off was. The minute I decided not to get on that bus, I knew I was finishing this marathon and getting that medal even if it took me every allowable minute, but I knew I was not riding that bus back!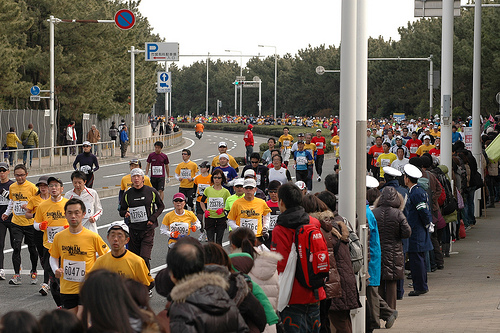 There were loads of spectators along the way, smiling, high-fiving, cheering us on. Some even hand out snacks and drinks… chocolate, rice balls, cake….. There was even a small group of little girl's hula dancing for our entertainment! Hula is actually very popular here because the Japanese people are completely obsessed with anything and everything Hawaiian!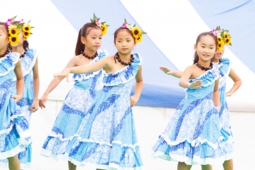 We even passed some drummers performing for us! So cool!!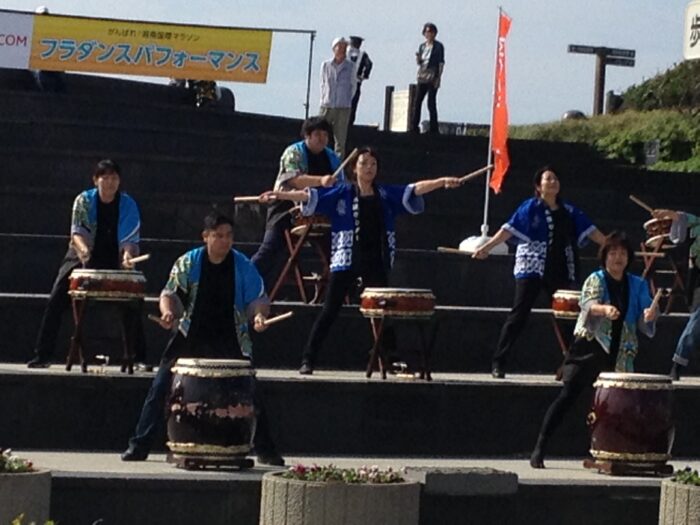 The final stretch of approx. 5km was a cruel joke really, where we run past the finish line and head further down the coastal road for a couple kms to the final turn around point and water station. The last of the dreaded busses were parked down there with their lights on, looming down the long road, warning us not to stop!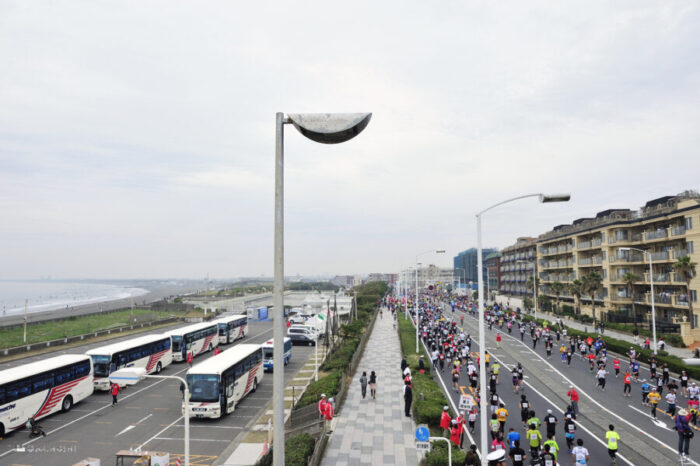 They were very visible for a long time as this leg kept going and going… I found this last stretch to be pretty tough on the morale because of the constant stream of hundreds of runners who were already on their way to the finish line… That 2km felt like 5km. Still, in seeing those busses at the end of the road I refused to walk until I rounded that last corner and made it through the final water station.
At this stage (and time) of the race you will see most people walking like it's suddenly Sunday morning out there! Very few were running and several had stopped to stretch or even sit down for a while!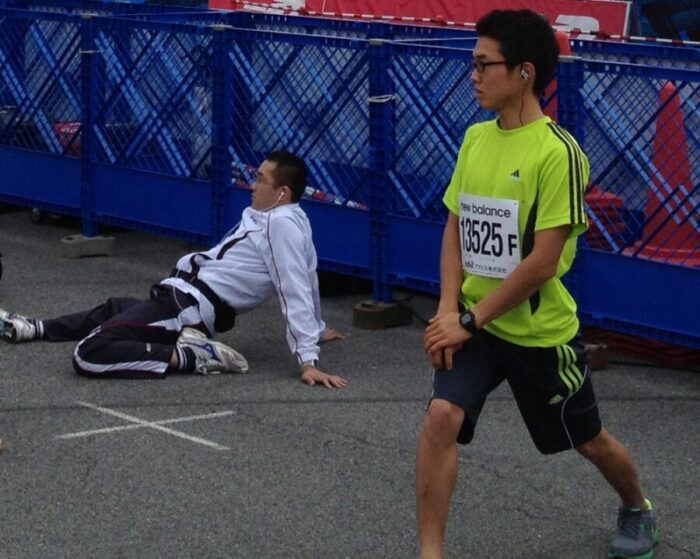 With about 40 minutes left to make the last 2kms back to the finish line and the 'bus threat' now gone, the pressure was off and most of the people around me were coasting. After finishing my final cups of water I power walked for a bit and started running again at 41km (I figured I had one more in me).
Just as I was coming into the final 500 meters or so, my ipod found Alicia Keys Empire State of Mind and the minute I heard her oohing those first bars that was just the last ounce of emotion my body could take and tears started streaming down my cheeks (love that song) as I came up the hill and around that last corner and sailed through the finish line…..
Yes!!! (arm pump)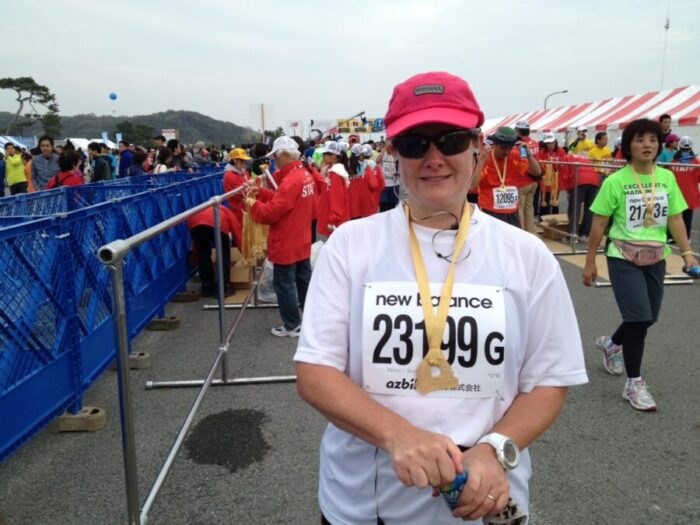 Our little Marathon team: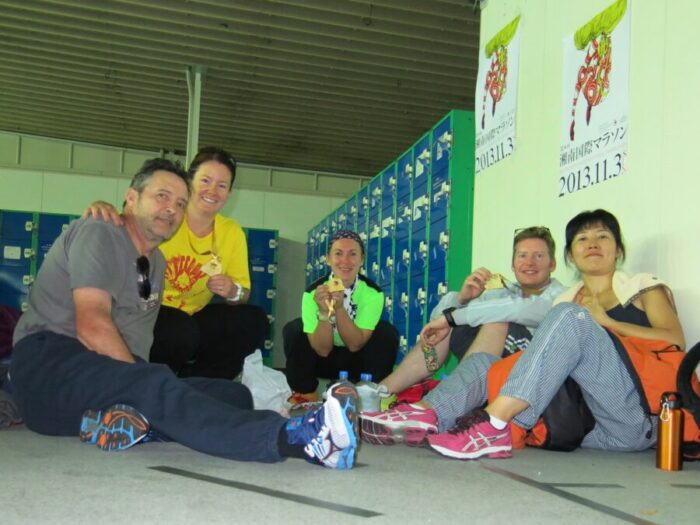 Yumiko-san, Darren, Cat, Heather, and Mark
The stats:
42.195km
Heather's Time: 5:46:38
Calories Burned: 4,369 (thank you Suunto)
Number of Marathon Participants: 18,000
Number of Marathon Finishers: 15,526
Number of Non-Asian Runners: Approx. 40!
(According to the English names on the finishing time sheet, I counted them!)
Until next time…
Originally November 2013
Our Group of Finishers:
Mark
Heather
Cat
Darren
Yumiko-san
entrepreneurship
living in Japan
running in Japan
Shonan marathon